8 Mins
A loan acts as a troubleshooter for many customers in their times of need. However, the lending process is something that both lenders and customers don't like going through.
The reason is a paper-heavy process that demands lots of documentation and several rounds of evaluations during underwriting.
As per the research, customers who have abandoned financial services due to a slow application process have increased from 40% in 2016 to 68% in 2022.
It grows into a headache when the customer has to take time off from work to visit the branch in person at least a couple of times and wait in long queues before the loan gets processed.
Even for lenders debt collection becomes a challenge as it stretches for a long time.
So to deal with such a monotonous hassle, turning to the cloud and all-in-one platforms that provide data repositories synced with automation like a voicebot can be a great solution.
This article dives deep into loan voicebot. Jump ahead to a section of your interest using the table of content.

Some of the challenges the loaning industry face
Here we explain some of the challenges that the loaning industry has to face.
1. Slow loan initiations
While it's crucial to collect necessary documents from the borrower, the only option for the borrower for submitting the documents is to travel to the bank. They have no other option but to submit the documents in person.
And during the process, by any chance the borrower forgets any documents, the process has to repeat. Hence the lender spends a lot of time getting the paperwork right before they can accept any loan applications.
2. Absent systematic process for identifying and tracking documents
Lack of a systematic process for identifying and tracking outstanding documents delays hunting down the right file at the time of the report.
As a result, there can be higher institutional risks concerning proper lien perfection, scarcely insured collateral, and regulatory inspection.
3. Mismatched volume of work and human bandwidth
Well, there's a lot to process and simply just not enough time to do it on schedule. With the debt collection voicebot, the right call can be made to the right contact in the portfolio when needed.
For this, the voicebot categorises the whole portfolio on the basis of disposition. For example, debtors who are willing to pay, those who refuse to pay, disputed debt, call-back later, validation requests, etc.
Also, those debtors who couldn't reach out are easily called back by the conversation AI without needing a human agent.
And finally, those dispositions which can't be done without human intervention are assigned to human agents.
Why do you need a voicebot in the loaning industry?
TATA Capital deployed the voicebot Tia, which assists humans seeking loans from the very beginning of the process till the end. This proves, with a reasonably advanced voicebot, customers can get immediate answers to FAQs.
This helps them complete the ion time. And with that automated backend process, their application is processed faster. This results in a better experience and happier customers.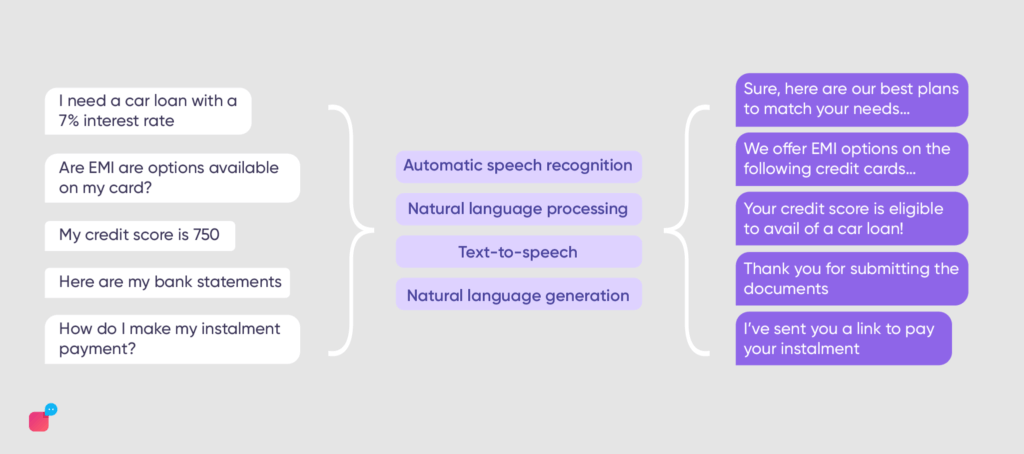 So let's discuss why voicebot is important in the loaning industry.
1. Helps deal with difficult conversations
Recovering money is an uphill task. There's always a customer who doesn't pay on time.
It becomes stressful when you want your money back but also don't want to annoy customers that are important to you.
In such a case debt automation like voice banking can take the burden away from the human agent.
2. Automate reminders to customers
Deploying a large team of agents to make calls to remind customers about their overdue loans, document submission, schedule meetings etc is time-consuming and involves large costs.
With conversational banking, calls can be made at scale. The rings can be automated which increases the efficiency of operations.
3. Cost reduction and efficiency management
The conversational AI voicebot makes it possible to make hundreds of calls at any time. It is an easy task for the voicebot to reach out to debtors who request a callback. It also makes reattempts right on time when there is a high chance to connect to contact. In essence, this helps the lender plan their workforce more efficiently, by routing all L1 tasks to a lending voicebot.
Use cases of voicebot in the loaning industry
Deploying a voicebot makes the whole lending process frictionless and hassle-free. From loan disbursement to debt repayment to disclosure of relevant information, it automates every process.
So let us dive deeper into these use cases.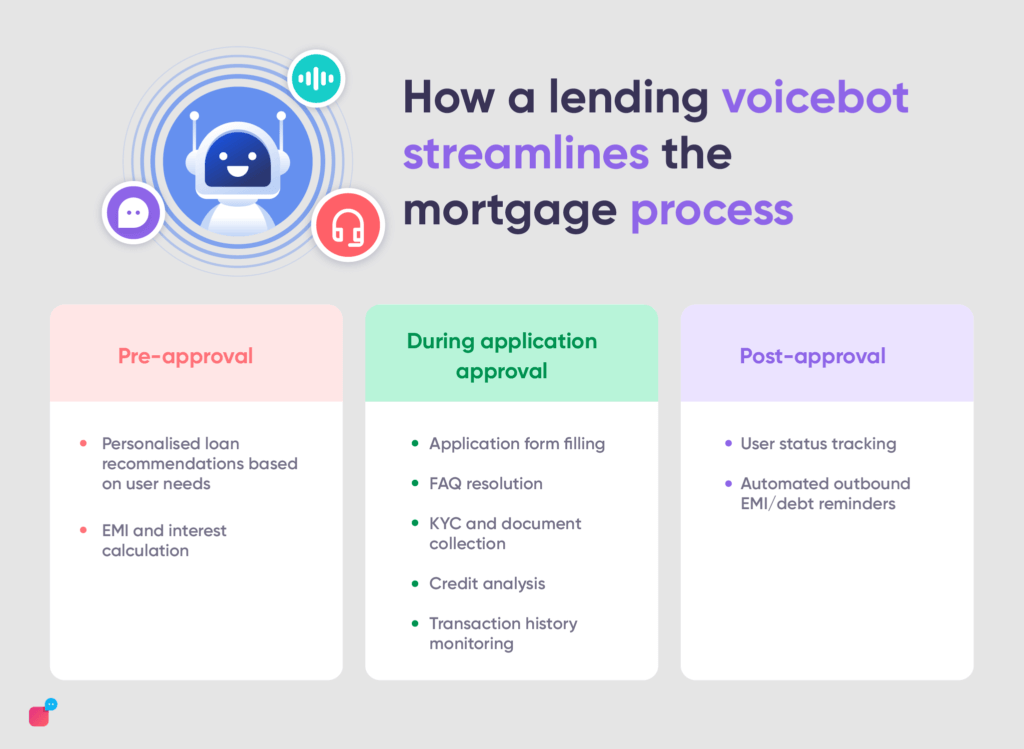 A. Pre-approval
Pre-approval in lending is a fundamental process where you understand if the customer is eligible to apply for the loan or not. The process also makes it clear to the customer regarding the loan amount that qualifies, the interest rate, the repayment period, and other loan terms.
1. Prompt users to share their preferences and offer personalised offers based on them
A loan voicebot will assist the users to understand if the particular loan they're applying for is right for them. Or whether they're eligible for applying for the loan or not. Then with a set of pre-entered questions, the lending voicebot helps them understand the various range of credit options available.
It eliminates the need for a service provider to spend hours clearing doubts and answering repetitive questions time and again.
2. EMI and interest calculation
A loan voicebot makes it easier to calculate the interest very quickly. In most cases, clients do their calculations and plan accordingly, but later on, the amount doesn't match the lender's calculation.
It leads to dissatisfaction and misunderstanding between the lender and the customer.
With voice, the problem vanishes. The loan voicebot does the EMI and interest calculation in advance for the customer and continues the further process smoothly. It will show them a preview of loan repayment plans. This brings both lender and borrower on the same page and helps promote transparency and clarity within the contract.
B. Application processing
The application helps lenders learn a lot about the applicant before extending credit.
1. Automate application form filling
During this process, the lending voicebot directly gathers all the information needed to prequalify the loan request.
The voicebot then offers a hand in the submission of necessary documents which include basic information like contacts, resumes, and personal tax returns.
2. Answer FAQs during the process
Filling out the form isn't as easy as it seems. It's a time-consuming as well as a delicate process. Any minor mistake can prevent the loan from being approved.
At the same time, It's hard for a layman to understand various terminologies which increases the chances of mistakes. Therefore assistance is required throughout the process.
A loan voicebot helps the user understand what information is required, explain terminologies, fix any hold-ups, and clarify any doubts they have.
3. Collect documents and KYC
Collecting documents for KYC ensures that the customers are real, authentic, and legitimate. It further helps to monitor risk.
But the number of applications that banks receive every day is tremendous. Collecting and verifying the documents takes forever.
This is where lending voicebot comes to the rescue, Voicebot asks the users to upload documents within the chatbot for KYC verifications. A voicebot can also perform voice biometric verification or collect OTP to authenticate the user's identity.
The underwriter will then verify and examine the submitted application, along with other financial details.
4. Analyse credit
Voicebot helps to know the creditworthiness of the customer. A lending voicebot can be used to call the customer and review the business's credit history.
The conversational AI voicebot asks the customer about the assets he has so that if the customer fails to repay the debt, those assets could be liquidated to settle the debt.
5. Monitor transaction history
Lenders must be heedful of customers' past transactions in order to prevent risk. Lending voicebot can help you identify information regarding who their customers were doing business with, what were the big transactions for, how much money was involved, to whom it is being sent etc.
C. Post-approval
Once the loan has been granted to the customer, the real task begins. That is, collecting the payment. Let's see how voice can be of great help.
1. Send EMI payment and debt recovery reminders
Once the due date exceeds, it becomes difficult to collect the money. If the customer fails to pay, the lending company will start losing money.
Therefore it becomes crucial to follow up with debtors continually. Loan voicebot then comes in handy; you can automate and trigger reminders based on individual borrowers' due dates.
2. Follow up and track borrowers
Not all of your borrowers will be cooperative to make their payments on time. After all, it's the very innate challenge all lenders face!
A lending voicebot can help you follow up with reluctant borrowers to expedite payments. It can also collect and share borrower information with your field agents, thereby reducing the additional time they spend following up with default borrowers.
Approve, disburse, and manage loans with a highly trained lending voicebot
BFSI is the top sector truly embracing the wave of digital transformation. AI-led automation is not only helping lenders expedite loans, but is also saving high operational spending.
With Verloop.io, you can build a voicebot that works precisely for YOUR lending business. Automate your most common user queries, set defined process flows that suit your needs, and manage your borrowers at scale.
Built on proprietary NLP and ASR, Verloop.io voicebots use speech as your best arsenal for automating most of your redundant or time-consuming lending processes. Schedule a demo with our team today to know how you can do that for your business!