13 Mins
Social media is the newfound power for customer support. Read more to find out how you can offer great social media customer care to your users.
No one thought of the impact social media would have on us, ever since we heard about it in the mid-2000s. And now, most of us don't go a day without checking our daily feeds on our favourite platforms.
Today, social media content is consumed by 3.96 billion people all over the world, which is almost half the global population. For a business, when most of the customers are found on these platforms, it becomes crucial for you to connect with them where they hang out.
People expect brands to connect with them on social media. In fact, 70% of customers are looking to connect with brands for customer support queries more in future. You can level up your business with a strong online presence and stellar social media customer care.
Let's explore more on why your business needs to offer social media customer care to users.
---
Table of contents
---
Social media customer care: The new way of strengthening customer support
Social media has brought upon a new era of brand communication. It is now a medium for businesses to widen their customer reach. From a user's standpoint, social media platforms have emerged as a space to voice opinions on businesses they interact with.
Communication on social media happens at warp speed. Every word spoken on it broadcasts to networks of people in a blink. This mechanism has made it essential for brands to bring their A-game when providing customer support on social media.
So, why is social media customer care important for a modern brand today?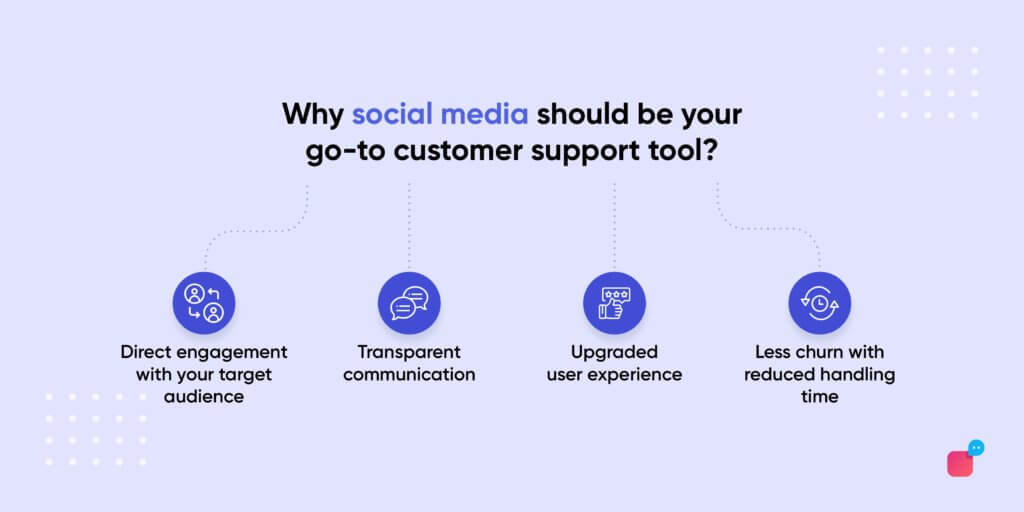 Direct engagement with customers
Social media has created an immersive space for brands to connect directly with their users. With no middlemen, you can reach out to your target market to understand them better.
Social media can help you gauge consumer expectations, trending topics, prevailing pain points, to name some. Knowing these can help you tailor your service accordingly and deliver better customer support.
Transparent communication
Another way social media can enhance your customer service is by avoiding miscommunication. Traditional support methods, such as call centre calls, leave room for confusion and human error.
​​However, on social media platforms, communication between your brand and customers are open to the public. Your interactions with your followers are noticed by everyone. This transparency in communication helps build trust and loyalty.
Less churn with reduced handling time
Reducing the churn rate is usually one of the top priorities for any business. Whether it's through a product upgrade or stellar customer service, minimising churn boosts revenue.
More often than not, customers stop using a product or service when the business is not prompt or attentive in responding to them. They expect reasonable and timely resolutions.
Social media's dynamic nature allows you to be quick and efficient with getting back to them. Consequently, users are less likely to abandon your product/service when they feel prioritised.
Upgraded user experience
Social media smoothens the entire resolution cycle for users. From the moment they raise a support ticket to the time they receive help, social media can streamline the process.
People enjoy unparalleled ease of access and freedom to communicate. Social media customer support combines the two to deliver a top-notch user experience.
Suggested Reading: All You Need to Know About Instagram Business API
Social media customer care reigns supreme: trends and stats
Using social media for customer service is now becoming pivotal for most businesses going online today. And there's more to it than the reasons we've explained above. Social media customer support will scale and grow as we move forward to a digital world. Let's see how!
Artificial intelligence is here to stay
Conversational AI is automating support queries considerably faster than manual processes. AI-enabled chatbots can handle large volumes of support tickets and deliver resolutions to repetitive queries quicker.
In fact, 91% of leading companies with excellent CSAT scores use artificial intelligence to improve their customer service! You can integrate a conversational AI chatbot on your social media page to quickly respond to queries and boost customer satisfaction.
Round-the-clock availability is in demand
Gone are the days when offering 9 to 5, Monday through Friday customer support was the norm. That's not what people expect now. Convenience is important to customers today, who now expect brands to be available 24×7 to answer questions.
To put a number against this, 43% of customers expect online businesses to offer customer support at all hours of the day. Social media platforms are available round-the-clock to host anything users have to say. They can contact brands via their social handles to receive support at any instant.
Users prioritise data privacy
How companies store and manage customer data is now a driving force in user experience. Moreover, companies are more likely to have better retention rates if they safekeep data shared by customers during support cycles.
Users don't want to associate with brands that don't value data privacy. 71% of respondents, in a 2020 McKinsey survey, reported that they'd abandon a brand if it shared their data without permission.
Social media is becoming the primary outlet for users online to seek customer support from brands. But how should you approach resolving queries on social platforms?
How-to: Approaching customer issues and improving social media customer care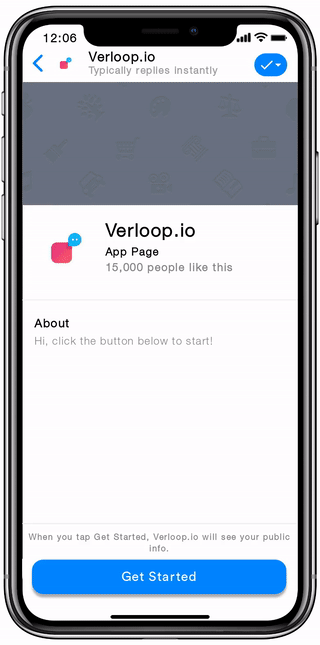 Social media is becoming the go-to spot for people to voice their product issues and complaints. They expect brands to quickly respond and resolve their support queries at once.
However, it's important to know how to approach to resolve customer queries and enhance your social support:
Take a personalised yet professional approach
The first thing you must do is remain professional and polite when starting a conversation with a user. Keep in mind that directly speaking to the user as an individual nurtures a sense of trust. It's an immediate way to pacify an angry customer.
Stay affirmative
Positivity spreads! Try your best to remain hopeful and optimistic about arriving at a mutual resolution. Let your users know you are there to help them. You can even try your hands at humour if you think it's appropriate.
Empathise
Empathy can help you approach the issue from your user's perspective. Putting yourself in their shoes can help you craft responses that they appreciate and find reasonable. It can also help you tackle an issue from the grassroots.
Be prompt
Don't keep your users waiting. Customers don't want to wait to find answers to their questions. One way to ensure you always respond on time is to deploy a social support chatbot. An AI-enabled chatbot is quick to respond to a user with solutions tailored to the user intent.
Why is monitoring your social media so important to offer great customer support
Your social media presence can more likely be the first time a user comes across your brand. It is an effective tool that informs, shapes, and defines user behaviour in 2021.
Needless to say, it's a powerful tool that you can leverage, not only to connect with your audience but also to gauge engagement, reach and other KPIs.
Monitoring and resolving unhappy user experiences
Social media can be a double-edged sword and requires handling with more care. It's great when your target audience loves your brand and lets the world know about it.
However, they'll be just as quick to share their displeasure with the social media world if they've had a rough experience.
A simple customer support interaction can easily resolve most of these claims of bad experiences. But the only thing worse than a bad review for your business is one that's left unattended. This is why overseeing what customers are saying on social media is vital for your business.
Monitoring users' engagement with your brand goes beyond looking for posts that mention your brand directly. You need to scout through posts and comments that mention your brand, understand user sentiments, and intervene when needed.
On the other hand, conversational AI can talk to your users almost like how a live agent would and walk them through resolutions. NLP-enabled chatbots can upgrade your social media customer care team.
Some social media tools to your rescue
You can also employ tools to level up your social customer service. Here are some that you can use:
HootSuite
HootSuite is a market leader when it comes to social media management tools.
It allows the integration of various social media streams such as Facebook, Instagram, Twitter, LinkedIn and YouTube. It comes with a dashboard that allows you to monitor your brand's engagement across channels at any given point in time.
HootSuite helps consolidate all user activity on different platforms and gives you real-time insights at a glance. With Hootsuite, you can automatically post and schedule messages too.
SproutSocial
Sprout Social is yet another great tool that you can use to handle an increasing volume of support tickets on all your social channels.
It loops you in on peak-time engagement spikes, unifies inboxes from across channels, and allows task delegation to your team.
You can also integrate your customer support chatbots to automate handling cycles for common queries.
Get more from your social media customer care with automation
When you use social media customer support, you'll find large volumes of support tickets make monitoring engagement, identifying issues and resolving them tiresome.
The smart way to get around this is to employ social media automation tools for your brand.
There are several tools out there today that can help you manage your customer support volumes. One way to tackle support queries is through conversational AI.
A social media support chatbot can single-handedly resolve most of the repetitive queries, easing the unnecessary load off your team.
Conversational AI is built on self-learning algorithms that can study user behaviour and personalise interactions with customers. These support interactions can be automated end-to-end with a dedicated social media chatbot.
An AI-enabled support bot can lead your grump customers to happy ones by quickly identifying their problems and giving them an accurate and time-bound resolution.
How can brands use Facebook and Instagram for customer support?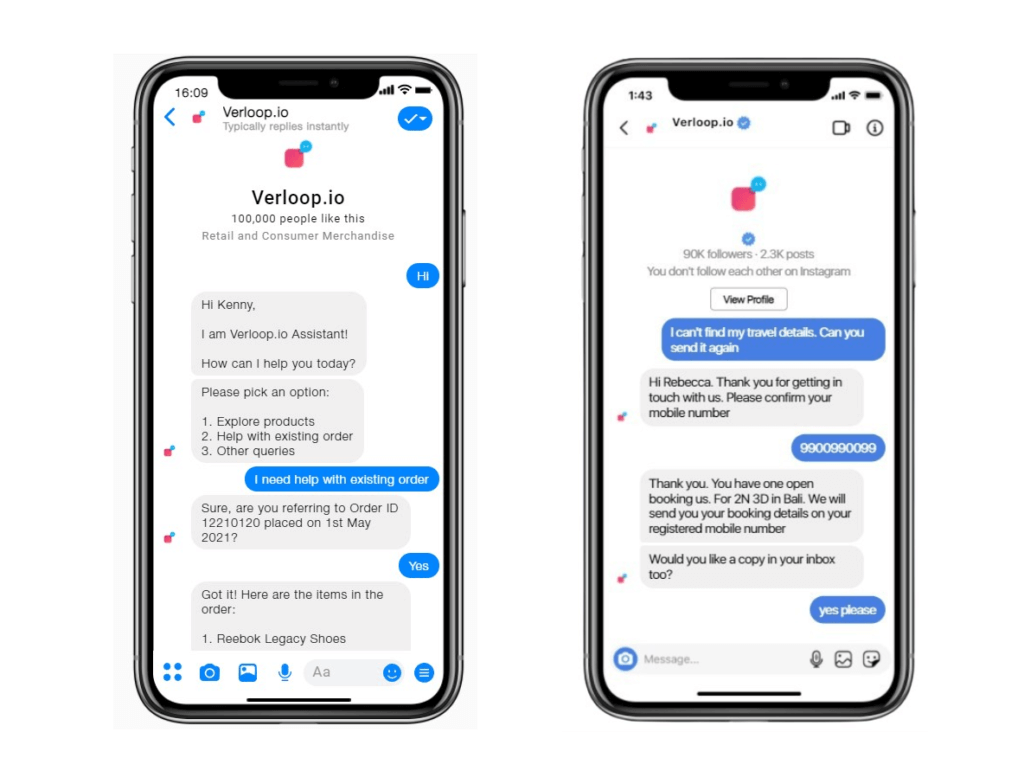 Facebook and Instagram are among the most popular social networks today with an active user base of 2.8 billion and 1.3 billion respectively. Their collective reach far exceeds that of other channels, which makes it the ideal and most obvious choice for businesses of any size.
Facebook offers two primary mediums through which businesses can engage with their customers – the brand page and through Facebook Messenger.
Customers can use your page to post comments and interact with the content by sharing their thoughts and reactions through comments. Messenger on the other hand allows for more personalised communication – you can directly interact with users via direct messages. Here's how you can use a Facebook messenger chatbot for customer support.
Instagram is another platform that enjoys a highly active user base. In fact, the platform accounted for 67% of the 290 billion reactions on brand-owned content across platforms in 2020. It revolves around sharing engaging marketing content through photos, videos, stories and reels.
Users can comment, like and share these posts. Brands can use these features to publicly engage with their user base to build their social media image and footprint. The direct messaging feature allows for customer support teams to quickly resolve queries privately.
An Instagram bot and Facebook bot can amp up social media customer care for your business. You can easily deploy a powerful conversational AI chatbot that can resolve most of your queries without involving a live agent. 
Suggested Reading: Instagram Messaging API: Automate Support the Right Way
10 social media customer care tips you can count on
Let's take a look at what are the best social media customer service practices you should follow to stay on top of your brand's social media game: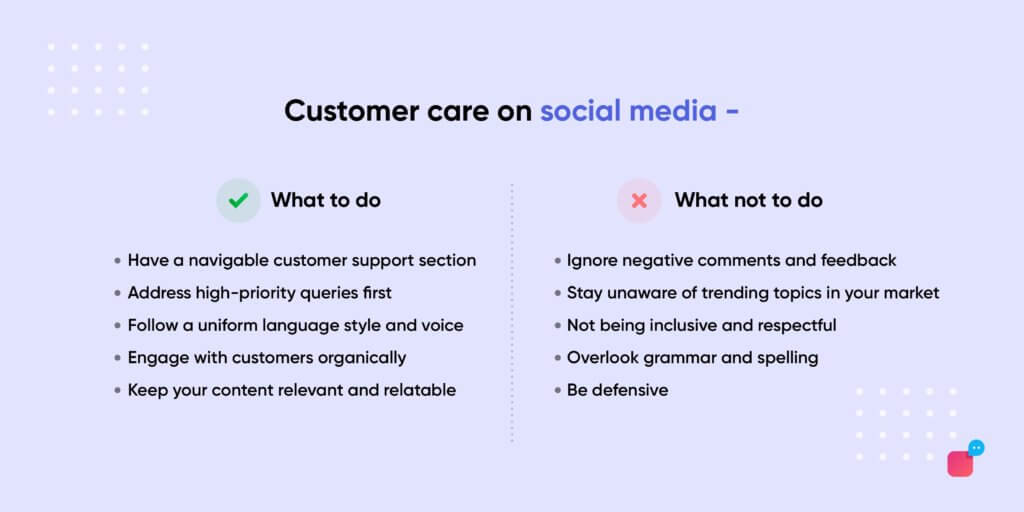 What to do
Have a navigable customer support section – This ensures that your users are not left stranded on your social media pages when looking for support. Give all the important links here like customer care number, email address, live chat link, etc.
Address high-priority queries first – Attend to the most important and relevant comments first. You need to prioritise responding to comments based on which ones are the most relevant and likely to gain the most views.
Follow a uniform language style and voice – Create guidelines for customer support teams to follow a uniform professional tone of voice across channels. Good customer care involves being patient and polite with customers.
Engage with customers organically – Encourage social media teams to engage with customers organically. Social media customer care is more than just dealing with complaints.
Keep your content relevant – Create content that resonates with your audience. Dry and drab marketing content that provides no entertainment value to users is often poorly received.
What not to do
Managing social media channels can be challenging at times. Here are some things you should never do on social media:
Ignore negative comments and feedback – It's best to address such comments professionally and offer to provide them with the best possible resolution.
Staying unaware of trending topics – Social media is a dynamic 8. landscape that evolves every day so it's important to stay on top of trends and using them to your advantage.
Not being inclusive and respectful – It's important for you as a brand to never alienate any group of people through your content so make sure it's not insensitive material.
Overlook grammar and respond without proofreading – Vet all content for mistakes and errors before it makes its way onto your page. Take time to ensure that it's proofread and edited before you post it.
Become defensive – Even when you feel the customer isn't always right, don't resort to an argument. It's important for your support team to maintain composure when having a tough support conversation.
Suggested reading: Instagram API: The Ultimate Guide
To wrap it up
Online is the way forward. Businesses needed social media to amplify their reach before, but now it has become the primary channel of communication. Whenever users come across product or service related issues, social media is the first place they turn to.
They use social platforms extensively – to consume media or to interact with businesses. This makes it imperative for you to offer unwavering customer support to retain users.
Try conversational AI!
Verloop.io's conversational AI for customer support is designed to lend a hand to support teams looking to handle and resolve queries effortlessly. With constantly evolving NLP algorithms, your AI chatbot learns about your customers along with you.