30 Mins
Facebook messenger chatbot automation is the present and the future. Explore what is Facebook chatbot, how to create it, its benefits, best practices, and more
Facebook Messenger chatbot is one of the fastest-growing and most effective ways businesses can connect with customers seamlessly.
Chatbots are the newest, easiest and most efficient tools for a business to communicate with customers over social media platforms and websites. As accepted by all, chatbots will be the customer service industry's future.
Chatbots are the finest example of conversational AI and human intelligence coming together to serve the customers.
While most companies are moving on social media platforms to connect with customers, companies that leverage chatbots on social media platforms hold the chance to enhance their customer experience.
That's why it is essential to know how a Facebook chatbot is built, the best practices your business should follow for a chatbot for Facebook Messenger to work, features you can reap from a great Facebook chatbot maker, etc. We discuss all this and more in our article.
---
Let's talk a bit about chatbots first
Here are the features that make your Facebook Messenger chatbot stand out from the crowd
Allowing users to access the bot on any platform – Web and Mobile
Facebook chatbot benefits: Why does your business need a Facebook Messenger chatbot?
How to easily build a Facebook Messenger chatbot
What is the Facebook Chatbot API and how do you use it?
Facebook chatbot examples: How are businesses using Facebook Messenger bots?
Best Facebook Messenger chatbot practices
Frequently Asked Questions (FAQs)
---
Let's talk a bit about chatbots first
Before we understand what a Facebook Messenger chatbot is, let us have a look at what is a chatbot?
In the simplest terms, chatbots are automated messaging software that use artificial intelligence to converse with humans. The most practical use of chatbots is in customer service, where businesses use them to revert to routine customer queries.
Chatbots can answer almost 80% of the routine questions and reduce customer support time as well as operational costs.
Chatbots have been around for quite a long, and with the advances in technology, the integration of chatbots with social media platforms has helped businesses to converse easily with their customers.
A regular, script-based chatbot use a couple of keywords to communicate with people and answer their questions and queries. However, a conversational AI chatbot uses the power of ML and NLP to identify the user's intent and communicate with users using human-like conversations.
The integration of the Facebook Messenger chatbot has helped businesses offer personalised attention, solve queries in real-time, build loyalty, and help customers get the best customer service.
The Facebook Messenger chatbot uses text, images, videos and combinations to communicate, making it one of the most effective and efficient models. It also offers triggers that help define your customer needs and show them the pathways for getting the potential answers.
Facebook Messenger is the 3rd most downloaded app as of 2021 and is growing with 8 billion messages exchanged between people and businesses every day; this explains the growing need for a chatbot for Facebook Messenger.
A brief history of Facebook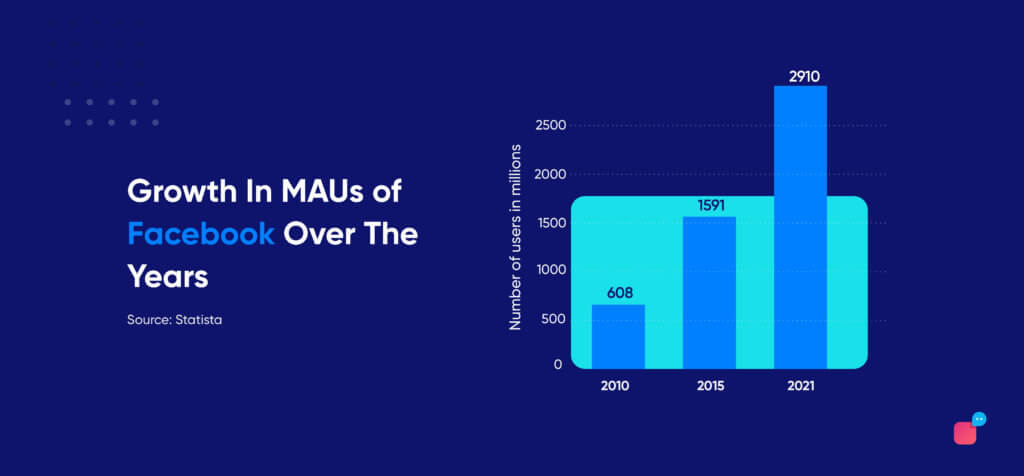 Facebook is one of the finest social media platforms that lets users stay connected with friends and family spread across the globe and share pictures, news, videos, content, and many more.
Not only this, with time, Facebook has grown to be one of the finest platforms for booming businesses to showcase their products and services and get a potential customer base.
Founded by Mark Zuckerberg in 2004, Facebook was initially a platform that helped students connect. Within just 24 hours of launch, 1200 undergraduates signed up. This was indeed a huge success, followed by an increasing number of signups from Harvard, Yale, Columbia, and Stanford.
2005 was a stepping stone year for the company where the domain Facebook.com was purchased for $200,000.
With new ideas like tagging people in pictures, developing a marketplace, messenger, and running demographic-specific ads, Facebook helped countless businesses and people to connect and grow.
By the end of 2006, there were 12 million registered users on the platform. That turned to 58 million by 2007, and the number has multiplied profoundly since then.
To grow and spread, it launched the Facebook Marketplace in 2016, which is the same year as launching the chatbot for Facebook messenger.
Undoubtedly the journey of Facebook has been an inspiring one. And now, it is powering Facebook chatbot conversations for thousands of businesses worldwide. Starting from the platform that connects people to a platform that connects businesses to people, Facebook has proved to be one of the finest technological developments we've seen.
What is a Facebook chatbot?
A Facebook chatbot is an AI-powered conversational tool that helps businesses reach out, connect, sell, and support their customers on Facebook Messenger.
Social media is arguably one of the most important inventions of the 21st century. It empowers millions of people around the world with a platform they can use to connect. It has added another dimension to social interactions.
What happens when you put AI and social media together? You get AI Facebook chatbots.
Facebook chatbot framework is designed to help businesses automate customer support operations, assist in marketing campaigns and much more through engaging text and media message formats.
How a typical Facebook chatbot looks like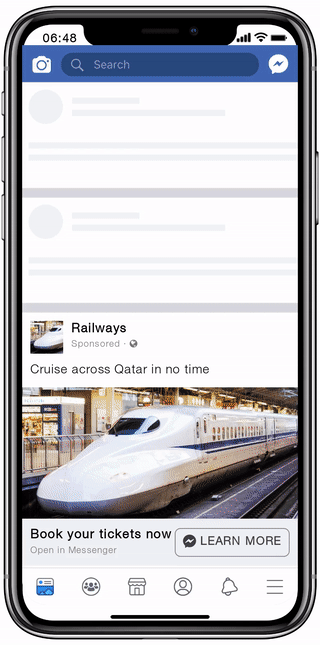 Suggested Reading: Facebook Business Manager: Creation and Verification
Here are the features that make your Facebook Messenger chatbot stand out from the crowd
Facebook is the third most used application worldwide. Apart from the low barrier to entry, the Messenger platform is packed with features that make it a favourite among businesses. Here are the features that can help you come up with a Facebook chatbot design that your business needs –
1. Cross-platform integration for extensive, consolidated reach
People enjoy the convenience of being able to reach brands on any social media platform of their choosing. Some people might be on Facebook, but not Instagram and vice versa. Facebook solves this problem by allowing businesses to connect with users on both Instagram and Messenger. Messenger and Instagram have a combined user base of several billion users.
One of the USP's of the Messenger ecosystem is that businesses can easily connect with customers on other products from Meta's messaging suite which includes Instagram and WhatsApp. All three platforms integrate very well with others, allowing businesses to reach new customers and re-engage old ones seamlessly.
We think you'd like to also know: Why your business needs an omnichannel chatbot for 360-degree customer support.
2. No more robot-speak thanks to NLP!
One of the most important parts of Facebook chatbot development is not overlooking empathy and understanding the intent.
When people think of robots, they might think of a tin-made humanoid that speaks in a distinctly robotic sound. However, the future of AI is conversational and sounds a lot like we do. Facebook chatbots equipped with conversational AI can help you connect with thousands of people while still being empathetic and polite, just like a person would.
Conversational AI Facebook chatbots can help you make the most of every conversation you have with a customer with context-awareness with Natural Language Processing (NLP). This can help the bot have natural conversations without sounding clunky and robotic. This added immersion makes it seem like you're talking to a real person.
Context-awareness can help your bot pick up on subtle linguistic differences and respond differently. You can also train it to learn abbreviations and common internet slang which makes it easy for people to talk to the bot.
3. Personalisation of every conversation to boost customer satisfaction
When you walk into a luxury store, the hospitality of shoppers is a top priority. They do this by tuning the shopping experience to reflect your taste and style. This helps shoppers feel valued and they may return to the store again as well as refer their friends and family.
However, there's not much you could have done to personalise the online shopping experience until now. With a Facebook chatbot, you can personalise and tailor every conversation to the needs of the users.
Messenger chatbots can add value to the shopping experience by tailoring it to the customer's liking based on their shopping history.
You can have the chatbot give you shopping recommendations and notify you about new launches that you might like. And that's just the tip of the iceberg, there are thousands of ways you can implement personalisation in your chatbot.
Personalisation makes customers feel appreciated and satisfied. This is one of the key reasons why marketers opt to deploy their chatbots on the Facebook Messenger platform.
4. Immersive text and media support make for engaging ways to connect
Plain text is boring, but emojis, GIFs and memes are not! Stay with the trend and leverage the use of various media formats to get users' attention.
Messenger is an ideal choice if you're looking for a platform that helps you stand out with great interactive features and supports various attachment formats.
Messenger supports various media types such as images, GIFs and Stickers. You can incorporate these media formats into your chatbot's responses to make the conversation even more personal.
Often, customers reach out to customer service for an issue that may require them to send photos of the product they received. Messenger makes it easy to do so with support for images built right into the app.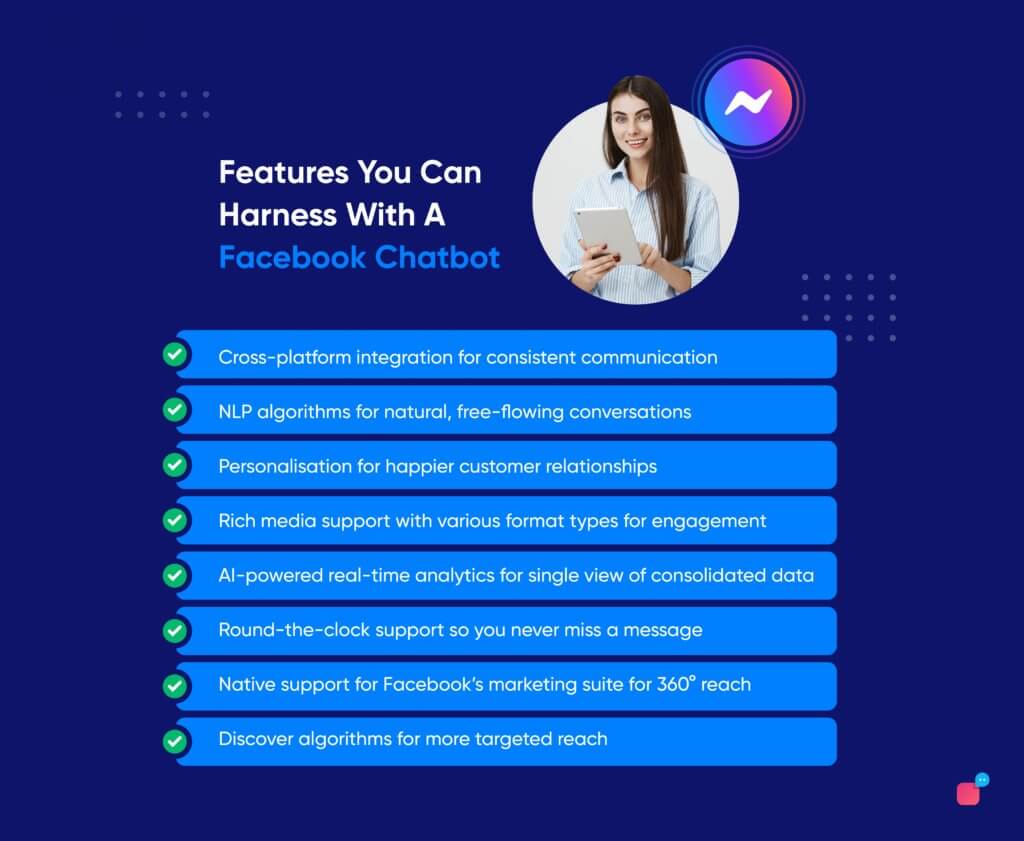 5. Robust data, analytics and feedback to stay ahead of the curve
Imagine having a dashboard that monitors what your users are saying around the clock, helping you identify just what your business is missing. Sounds like a dream? Well, it's as true as it can be!
With a chatbot, you can quickly glance at common themes between most customer support queries and analyse them to identify issues within the business. These Facebook chatbot analytics can be a game-changer if you use them right.
Using a chatbot can help marketers access robust analytics that can help identify bottlenecks that are holding up orders, understand the preference of customers, gauge interest, and plan more effective marketing campaigns that.
You can even use a Facebook chatbot to collect feedback from your users periodically. This can help you find out what works for them, what does not, their complaints, problems they face with your product, and more. Having a regular feedback collection cycle can help you stay on top of your CRM game.
Check out how you intelligently collect, store, view, and access customer information in an all-in-one comprehensive dashboard: Build Smarter Engagement with a Unified Customer Profile
6. 2 PM or AM, stay connected around the clock
The world may sleep, but the Internet does not. The Internet has made shopping available to everybody at all times. Since this is the standard, users will expect this from your brand too. When they log onto your site, they expect someone to be available to attend to them even if it's past working hours.
However, hiring an entire team of live agents to remain accessible around the clock is an expensive affair. Conversational AI chatbots solve this problem by staying online even past working hours, ready to attend to questions at any time of the day or night.
By meeting this subconscious expectation of the user, you've already managed to tap into their good side.
Pro-tip: Your Facebook Messenger conversational chatbot can also smoothly nudge your customer to restart a conversation with your business, in case they leave the chat idle. This makes re-engagement simple and also relevant.
7. Native support for Facebook's powerful marketing suite
Digital marketing is an indispensable part of every business' routine these days. We live in an Internet-first world where online presence is just as, if not more, important than physical presence.
The reach that Facebook offers through its extensive range of social media apps that connect everybody around us is truly unparalleled. Another benefit of deploying your chatbot on the Messenger platform is that you will be able to easily integrate your chatbot with advertisements. You can use a Facebook chatbot to run campaigns.
For instance, you could have a carousel showcasing your products and an embedded 'Add to Cart' and 'Chat Now' button that will help customers get in touch instantly. There are many different types of marketing campaigns that you could try with Facebook, offering you new and novel ways to attract new customers.
How customer support differs on Meta's range of social apps: Customer Support: Instagram vs Facebook vs WhatsApp
8. Discover and engage with new customers and build organic connections
Social media has played a pivotal role in our modern society, empowering everyone with the ability to network freely. Social media was built to connect people to people and businesses of their interest. When choosing the platform to deploy your chatbot on, it's important to consider how effective their discovery algorithms are.
Facebook's discovery algorithm helps connect businesses with the kind of users they're most interested in. This can help you find new customers within your desired target group of users. Facebook identifies the target group your business caters to and organically connects them to you.
This organic method of discovery feels intuitive, natural and rewards businesses that users had a good experience with. This can help your business connect with those users who are actually in need of your services.
There is no point in marketing something to someone from outside your target audience, which is why Facebook Messenger can help you narrow down your preferences and target just those user groups that you are interested in.
Find out 10 different use cases your Facebook Chatbot can solve for!

Allowing users to access the bot on any platform – Web and Mobile
Are your customer support teams swamped with high call volumes? A chatbot might be the solution to managing high volumes of support queries effectively.
Businesses tend to have a Facebook Page that's accessible on Mobile and Desktop as well as a website. Usually, all three have customer support channels and you might be wondering how a Messenger chatbot would integrate with all three.
Fortunately, the Messenger platform is equipped to work across different platforms. You can implement a Facebook chatbot on your website and a Facebook chatbot for a business Facebook page. And even through native iOS and Android apps.
This offers your users a high degree of flexibility. They can communicate with your bot through their browsers or on their apps on their phones whenever they want to. Since your bot will be available 24×7, you want to maximise accessibility by providing users with more choices.
You can also choose to integrate a Messenger chatbot to your website by whitelisting your domain in your Facebook Business Page settings tab.
Check out: How Can a Mobile Chatbot Level Up Your Business?
Facebook chatbot benefits: Why does your business need a Facebook Messenger chatbot?
Facebook is not a new social media platform for anyone. It has taken the world with amazement in no time. Offering the seamless connectivity and feature of tagging to video calling, one can easily use the platform.
A free to use social media platform comes with some unique features.
So, if you are wondering why you need a Facebook Messenger chatbot for your website, let's set the context first with some stats that will back up what we are going to talk about next.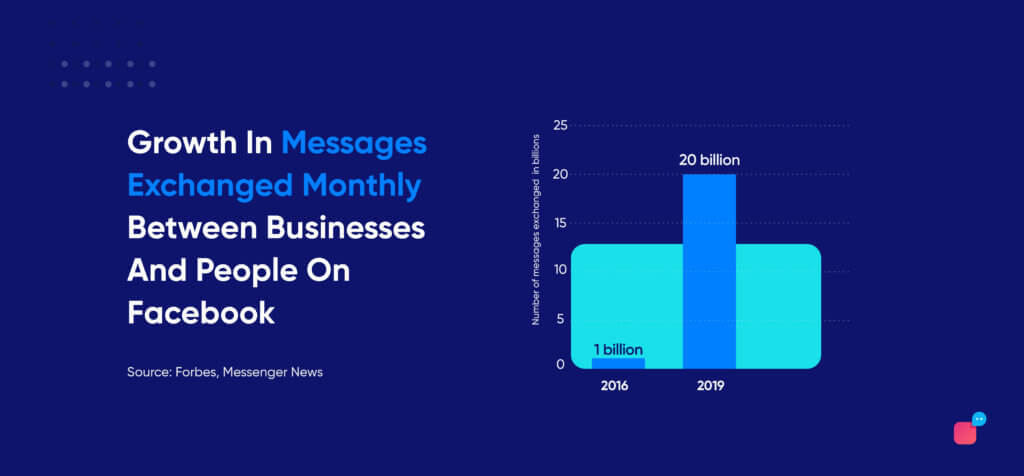 Facebook has a low barrier to entry. It is the third most used application, with over 68% of application users only.
It is one of the smoothest and simplest platforms for businesses to communicate with customers. Statistics suggest that over 2 million businesses messages are floated over Facebook Messenger every month.
Globally, people use Facebook daily. According to figures, if a business uses Facebook Messenger, then the chances of people opening the message compared to marketing emails increase by 70-80%.
It has been found that click to send messenger ads has chances of 100% conversion of leads.
Also, Facebook Messenger ads are 30-50 times cheaper than conventional Facebook ads.
How implementing a Facebook Messenger chatbot can benefit your business
Are you interested in knowing how a Facebook Messenger chatbot can help optimise your customer support?
Read on to find out why businesses across markets and industries are using Facebook Messenger chatbots:
1. Minimise wait-times to avoid keeping your customers waiting
One of the key functions of a chatbot is to assist live agents by being the first point of contact for all queries. As soon as the customer logs onto the site, a notification grabs their attention telling them that the bot is available to chat whenever they need help. This assures users that the brand would be willing to answer any questions that the user might have about the product.
Once the customer asks the bot a query, it will quickly reply with the most relevant information immediately. Most basic queries are resolved instantaneously this way.
However, when the query is more complex or if the bot is unable to process the question, it can transfer the chat to a live agent. This way, the bot can alleviate the burden on live agents. This in turn helps those who need quick basic help get answers instantly and also prioritises a resolution for those with complex queries.
What conversational automation on Facebook did for a Malayasian super app: Grab initially started as a ride-hailing service in Malaysia but now has become a household name in Southeast Asia. As the company grew and expanded, it found itself unable to support its customers efficiently, which resulted in a sea of backlogged tickets. Grab deployed a multilingual conversational bot on its messenger platform only to see:
90% decrease in backlog of tickets
A consequent 23% cost reduction
3x jump in containment rate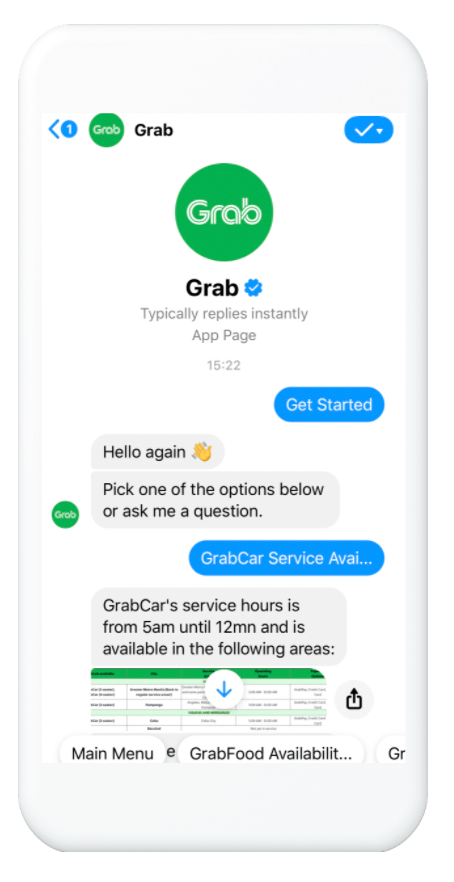 Know more: Your Guide To Navigating Through Social Media Customer Care
2. Do a lot more with just a few taps!
If you've used a chatbot before, you know it can offer you support options for a variety of different problems all at once, which allows the users to choose the issue they have.
For instance, you can give users the option to choose between billing issues, shipping information, quality issues and much more.
A great example of using a Messenger chatbot is Pizza Hut. Their bot allows you to order pizza customised to your liking without ever having to talk to a live agent. The bot presents the menu and allows users to choose toppings and other options.
The ingenious bot makes the whole ordering process much simpler and intuitive, saving users a lot of time.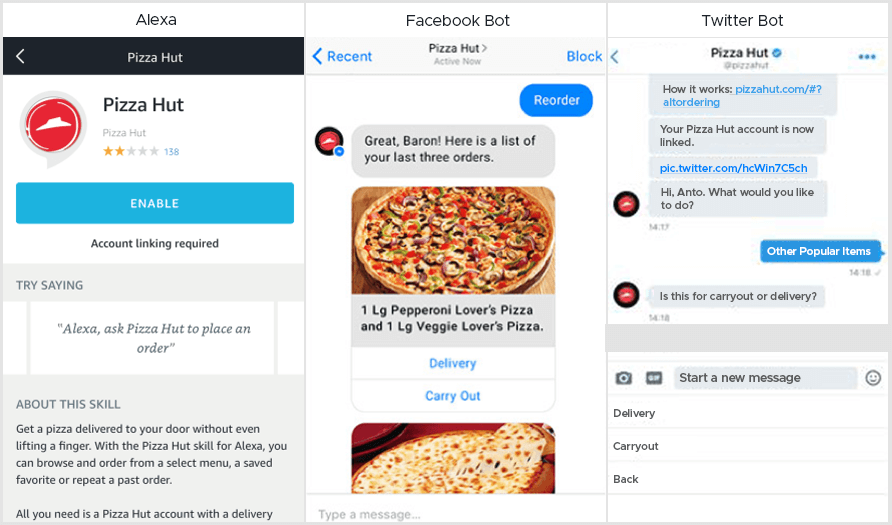 3. Boost customer satisfaction rates with an easy way to provide support
Every brand cares about its customer satisfaction rates. Chatbots are designed with this goal in sight at all times. A Facebook chatbot helps you address problems your customers are facing instantly, which reduces the risk of users having an unpleasant experience.
One of the most important metrics for marketers is the CSAT. Facebook Messenger offers customers a personalised and intuitive approach to customer support and marketing that makes them feel valued by the brand.
This can go a long way in building trust with customers and boosting your overall customer satisfaction rate.
Why most customers of this Singaporean e-commerce company chose Messenger AI over other mediums: Ninja Van, a Singapore based e-com supply chain company used Facebook's Messenger API to integrate its existing digital assistant into the messaging platform. The company scaled its self-service capabilities and saw ground-breaking results with its customers.
73% of customers opted for communication over Messenger vs phone.
A staggering 5x turnaround time in handling queries
A phenomenal 98% Net Promoter Score (NPS)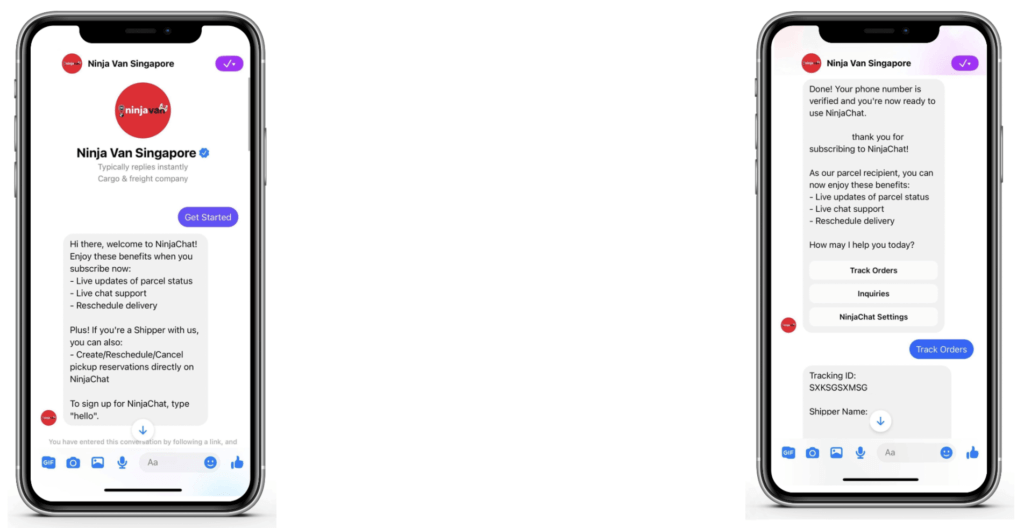 Suggested Reading: Announcing CSAT On WhatsApp And Facebook
4. Stand out of the crowd with a new way to connect
Facebook is a massive platform with millions of users and a huge number of advertisers to match. However, there are only about 3,00,000 bots on Facebook while there are over 6 million advertisers.
Think about that. That's just a fraction of the total number of advertisers who haven't made the most of chatbots yet.
This presents your brand with an opportunity to have an edge over your competition by adopting an efficient way to interact with customers before others do. This first-mover advantage can go a long way in setting you apart from the crowd and can help your brand get noticed.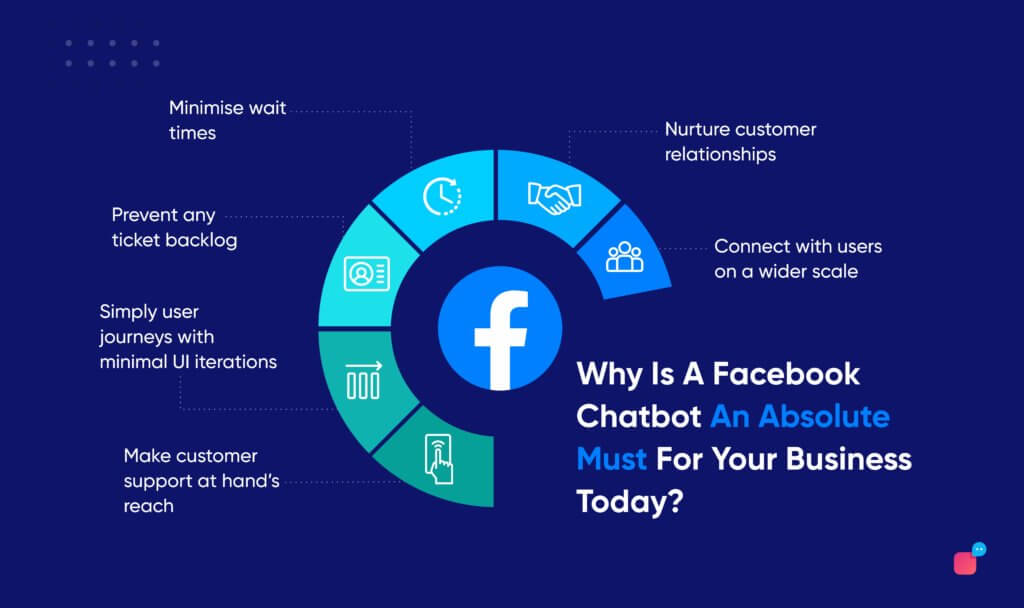 Suggested Reading: Customer Support Automation: Benefits And Results
How to easily build a Facebook Messenger chatbot
You've probably seen and used a Facebook Messenger chatbot before and you might have wondered how it's made.
We'll show you just how easy it is to get your own Facebook Messenger chatbot up and running in a few simple-to-follow steps:
1. Choosing the right service provider
Before you start building your bot, you need to find a trusted service provider who can help you deploy a robust, conversational-AI bot that suits the needs of your business. Choosing the right Facebook chatbot software is crucial.
2. Creating a Facebook Business Page
The Facebook Business Page is essential and will house your chatbot. You can create a new page or log into your existing one.
You can now link your Facebook page in the bot settings. This is an important step.
3. Creating templates
You need to have the right Facebook chatbot templates in place for your AI to function optimally.
When you ask the chatbot a question, it processes it and chooses the most relevant template to reply with. In this step, you will create these templates and save them.
First, create a warm, welcoming greeting to be used as the first welcome template. A simple line like "Hey there, how can I help you?" is great. Keep it simple, polite and friendly.
You'll also have to identify the most relevant keywords and make templates for each of them.
Finally, make a simple apology template for requests that the chatbot fails to understand
You could say something like "Sorry! I am unable to understand your question. Please try again." Creating relevant templates is an important step of your Facebook chatbot's framework,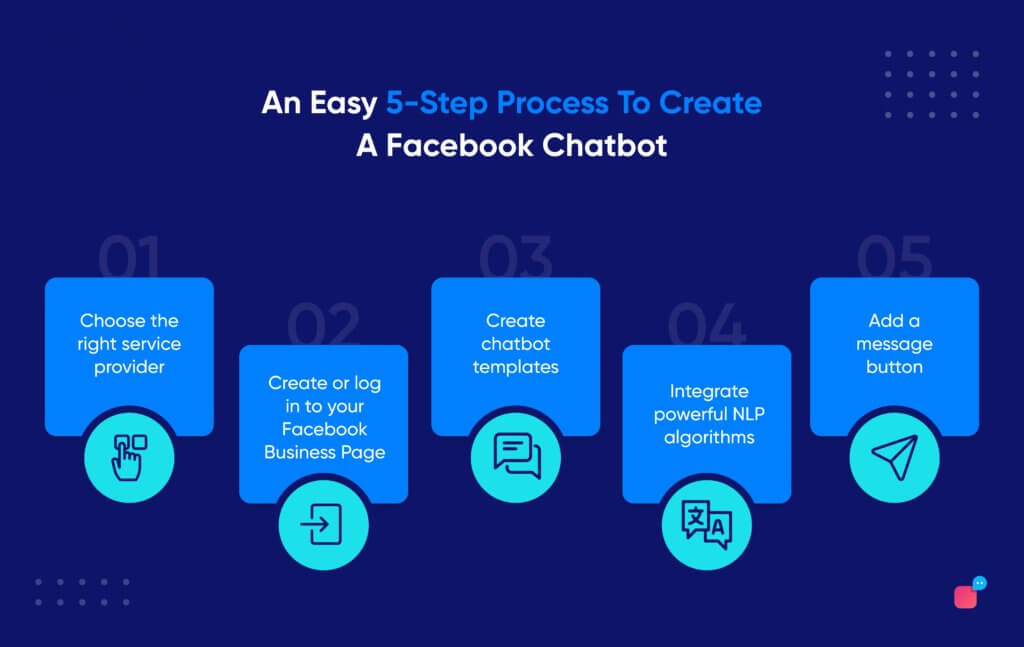 4. Making the Facebook chatbot smart with AI integration
Once you've created all your templates, you can add a dash of AI-powered NLP magic to the sauce. As we mentioned before, NLP is a crucial
This is what makes your bot smart and gives it the ability to understand the users' intent.
This will help your chatbot get more efficient with time as it continuously learns from each interaction.
A trusted conversational AI platform like Verloop.io can help you equip you with the right Facebook chatbot tools to deliver the best experience to your customers.
5. Adding Message Button
Finally, the last step of building your process is to deploy it on your Facebook Business page. You can do this by adding a 'Contact Us' button to the page.
Make sure to run tests on your bot using the API interface to ensure that everything is functional and working as it is supposed to.
Suggested Reading: WhatsApp Business Vs Facebook Messenger: Detailed Comparison

What is the Facebook Chatbot API and how do you use it?
Impressed with Facebook's functionality? Marketers at brands around the world are choosing Messenger for their customer support and marketing. If you're on the fence about if the Facebook Messenger app could work for your brand, you can test out the Messenger platform here for free in 30 minutes!
Here is a sample business that you can chat with to check out the interface.
Send API
Messenger supports sending various types of media on its platform. However, to automate these messages and allow the chatbot to perform functions, we invoke what is called an API. The API helps the chatbot connect with Facebook and give it commands in code to perform specific functions. You can operate the API through a command line or a dedicated GUI.
The main API that is used to send various forms of text and media in the form of templates and structured messages is called the Send API.
Supported Message Types in Send API
Let's take a look at the different types of messages that are supported by the Send API:
Standard Messaging
Let's say Rochelle is interested in a handbag you're selling on your page and she messages you asking for details. You now have a 24-hour window to respond to Rochelle. This is called standard messaging where the user initiates the conversation with the business and the business can reply to the chat within the stipulated timeframe.
One-time Notification
Let's say you respond to Rochelle within 24 hours but she is no longer getting back to you. In this case, you can choose to send a one-time notification opt-in after the initial 24 hours have expired. This is great for brands that deal with a lot of cart abandonment, allowing them to quickly notify users that they left their cart behind.
Private Replies
Just like how people can comment on your posts, they can choose to do it privately. A private reply is sent straight to Messenger, allowing you to use the API to respond to private replies on your Posts
Message Tags
Facebook has approved certain circumstances under which you can send 1:1 personally relevant messages to users even outside of the initial 24-hour period. For instance, Lisa has placed an order from your website and is expecting it to be shipped soon. Instead of having to constantly monitor the tracking page, she chooses to be notified about shipping and delivery updates on Messenger. Now, the chatbot will send her a message in a pre-approved message format informing her once her package has been dispatched.
These messages are called Message Tags.
Sponsored Messages

Sponsored messages appear like normal messages sent in Messenger but are marked as Sponsored. This can be incorporated into various marketing campaigns to emphasise the attention to personalisation. There are many ways to use this feature in conjunction with your chatbot.
Messaging limits
Meta's Messenger messaging suite have incentivised organic communications and not spam messages sent in bulk. To avoid people from spamming, there are message limits that apply to businesses.
In general, the daily messaging limit is calculated at 200 * [the number of users the business can message via Messenger.
High volume messages
When a business is constantly sending or receiving a large number of messages in a short duration of time or has many concurrent threads open simultaneously, the Page will be converted to a High MPS (message per second) Page.
This would mean permanently losing access to the Page Inbox tool and the only way to manage messages is through a Facebook chatbot API integration.
You can avoid being converted into a High-MPS Page by keeping your message volumes under a certain threshold that keeps varying.
If you would like to still retain access to the Inbox page, you can do so at the cost of having a lower rate limit or by using a third-party API that supports Inbox.
Messenger Profile API
The Messenger Profile API allows you to configure, update, retrieve or delete all the various properties listed here.
Rate limit
You can make a maximum of 10 API calls per 10-minute interval.
Attachment Upload API
You may have some media that you use often. Messenger has made it convenient to do so with the Attachment Upload API. With this API, you no longer have to attach the media each time. Instead, you can simply upload it once and invoke this API along with the Send API to send the message.
Handover Protocol API
This API is quite versatile and can help you achieve much more with your chatbot. It can help you connect two apps to Messenger and have them work in tandem or without affecting each other. For instance, you can choose to manage automated responses through one app while live agent customer service is managed through another app. These two apps can work alongside each other without interfering with the other.
Messaging Insights API
The Messaging Insights API is used to retrieve the information in your Insights tab on your Facebook page.
Personas API
Personas API is an interesting addition to the Messenger Platform. It allows you to add a virtual voice or 'Persona' to the messages your bot sends on Messengers. The Persona can even be backed by a live agent if required.
Messaging Feature Review API
This API is used to check the feature submission status of Page-level features.
ID Matching API
The ID Matching API allows you to identify users across multiple pages and users that you may have. Here is some more information on the ID Matching API in the documentation.
How are Businesses Using Facebook Messenger Bots?
There are a diversity of reasons that make businesses launch chatbots in day-to-day operations. With the increasing inclination of the consumers towards the social media platform, it is essential to offer the same access.
Using a Facebook chatbot can help the customer get timely replies to the most common queries and businesses to develop loyal and satisfied customers. Statistics by Acquire suggests that around 1.4 billion use messaging applications and are willing to talk to chatbots.
From making suggestions to offering choices and solutions, the Facebook chatbots allow the customers to communicate at any point of the day seamlessly. Additionally, seeking feedback and suggestions from customers is relatively easy with the help of chatbots.
Suggested Reading: Announcing CSAT On WhatsApp And Facebook
Some of the business examples that use the Facebook chatbot and have earned positive outcomes are:
ModiFace
ModiFace helps the customer to gain the best experience while buying lipstick. Using the Facebook Messenger chatbot simulation allows the customer to try on shades and select the best virtually. Such a service that enables the customer to shop from the home's comfort and ensures positive and delighted customers.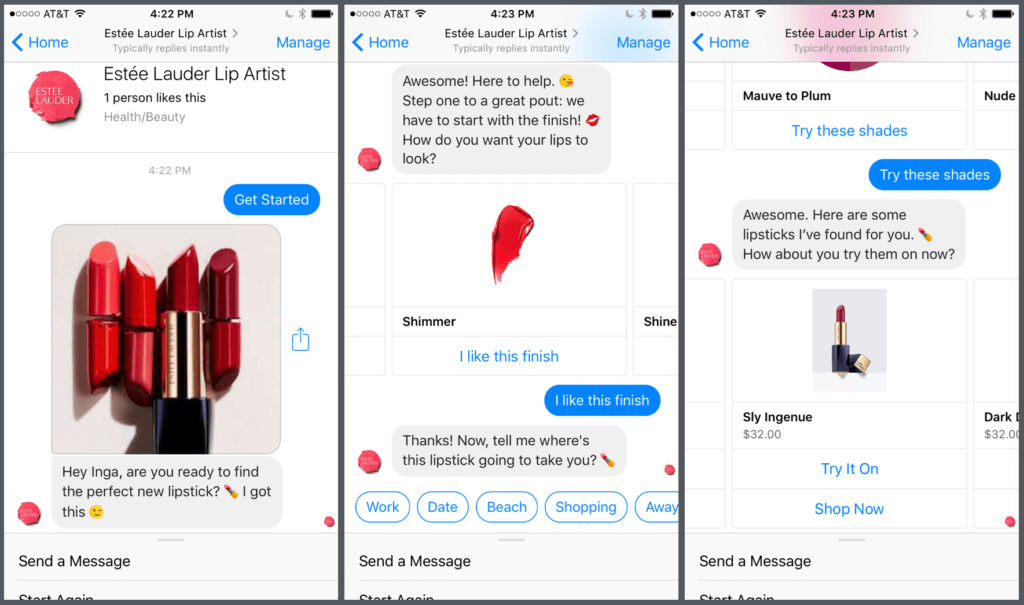 Sephora
This is a makeover store that offers the Reservation Assistant bot. Suppose the bot cannot resolve the problem or offer the most appropriate answer that the customer is looking for. In that case, it facilitates the booking of personalised assistance with the store representative.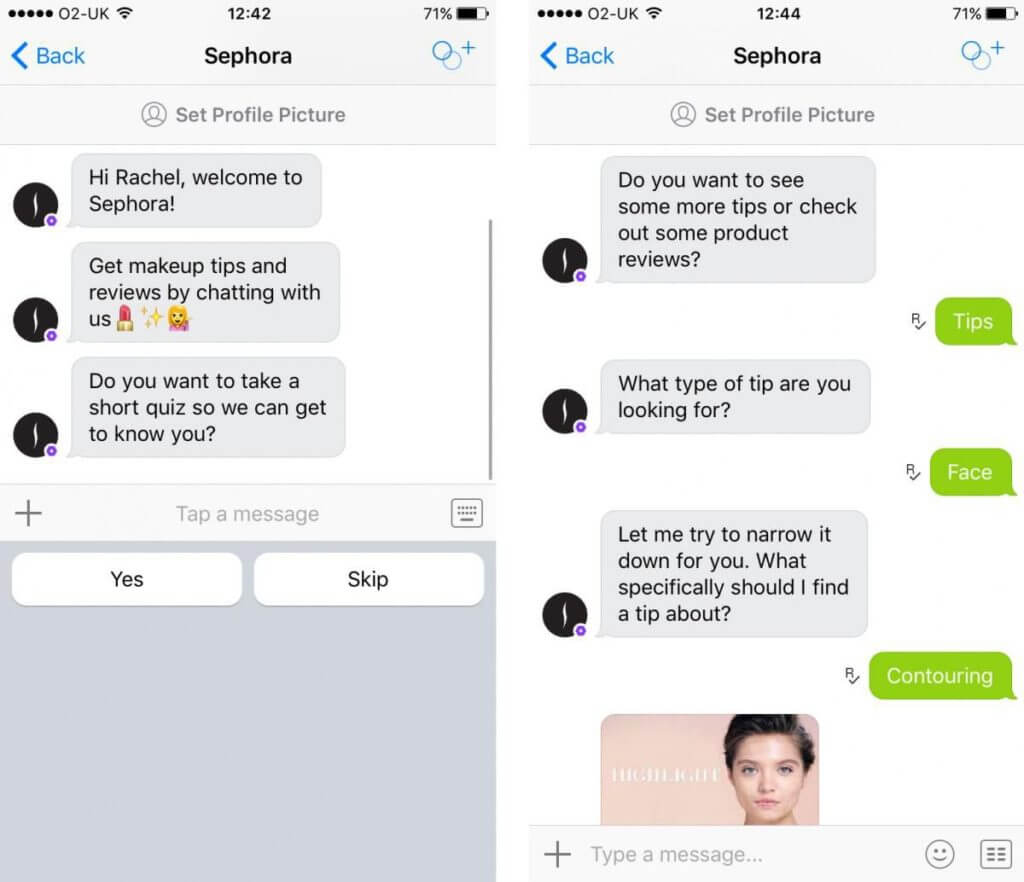 Kayak
The travel fare aggregator, Kayak, is using the Facebook chatbot most finely. From giving the flight recommendations to the hotel bookings and customising the packages, the bot is willing to help the clients at every step. The bot helps the customer navigate the process and warm a delightful experience by asking a series of questions.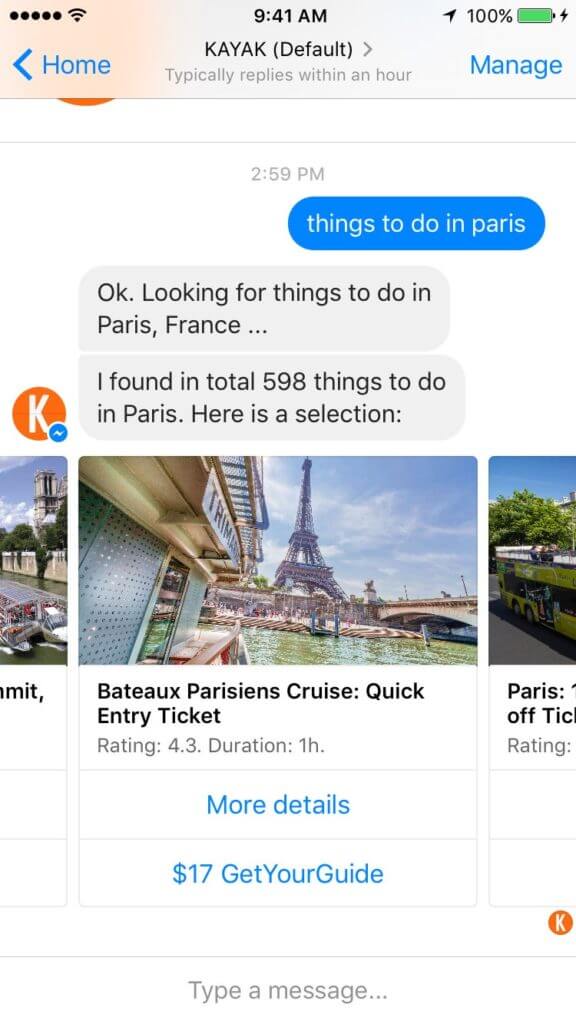 Marriott Rewards
Marriott is known for its classic customer service. The chatbots created by them are used for various services like guests having the opportunity to enter their desired dates in a city, get a list of hotel recommendations, and a lot more. This not only conserves time but also helps to target the customers most appropriately.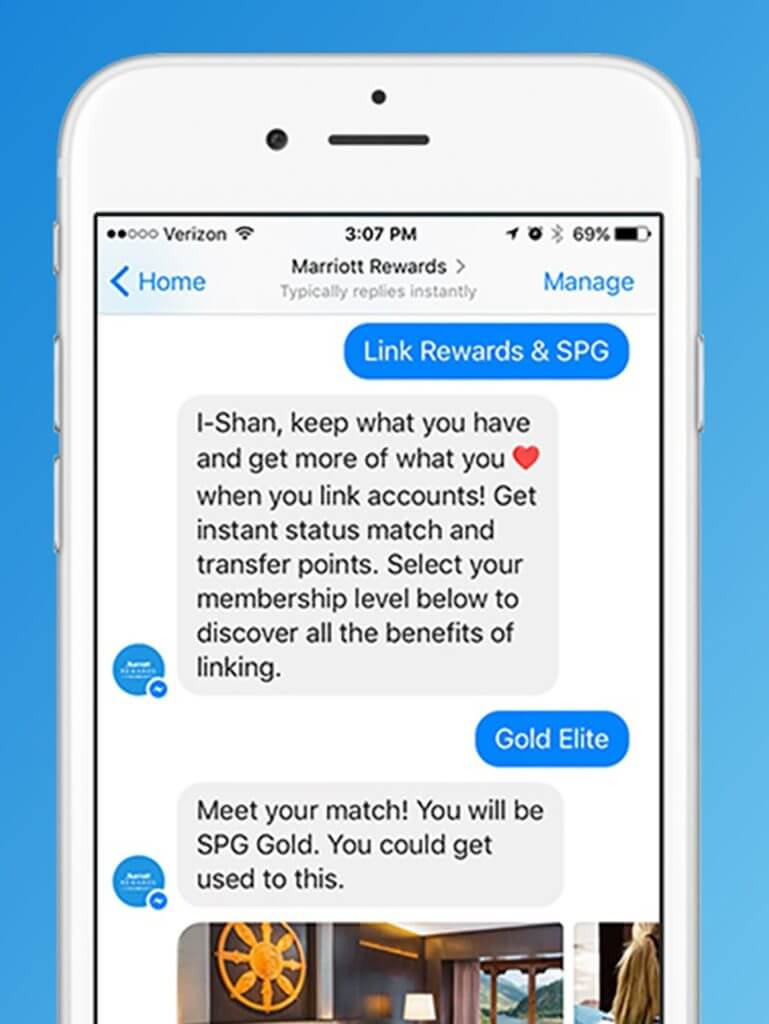 Facebook Messenger chatbot best practices
Facebook chatbot is true of high value and offers immense facilities to help the business grow and flourish.
From simple application and assistance, one can easily create and connect Facebook Messenger to the chatbot and create a base of satisfied and happy customers.
Some of the best Facebook Messenger chatbot best practices are:
Set your expectations from the chatbot. It will help you to design the most appropriate model.
Ensure to be clear about the expectations of the customers regarding communication and try to build on it.
Personalisation and customisation is the key to business in a competitive environment. Ensure to incorporate the same.
Get to the point. Running around the bush can irritate the customer but offering a to-the-point solution will make the customer delighted.
Chatbots are the future, but that does not necessarily mean humans are nor needed. The design should be such that it must be clear when to shift the communication to agents for smoother service.
Transparency is equally important. While using the chatbot, the communication should be clear; also, incorporating the omnichannel experience can add to the benefits of using bots.
Learning should never stop. The biggest strength of any business is to learn from the mistakes and market. Updating the chatbots and implementing the new knowledge will help the customers to communicate better.
Conversational AI makes it easier for customers to explain their needs. Using the same will help to communicate better and close the leads generating a base of loyal customers.

Frequently Asked Questions (FAQs)
Here are some of the most asked questions about Facebook Messenger chatbots for your reference:
Are Facebook chatbots free?
It is free to develop and deploy a chatbot on the Messenger platform. However, building a robust conversational AI-equipped chatbot is a challenging task that requires a lot of technical skills. For most businesses, it is far more economical to choose a Facebook Partner such as Verloop.io to develop the perfect chatbot for your business.
A well-built chatbot can help you save on operating costs which makes a chatbot very economical over time.
How to activate a chatbot on Facebook?
To activate your chatbot, simply link your Facebook Business Page and choose to add a Contact Button. This will add the chatbot to your page and allow users to use it right from the get-go. There is no further action required to keep it running.
How to test Facebook Chatbot?
It's highly recommended that you test the bot thoroughly to ensure that it's performing as intended with the required Facebook chatbot tools. When running your tests, ensure to ask the same query in different ways to see if it can pick up differences in context. You can try this for each template and see if you need to troubleshoot anything. If not, your bot is now ready to go live and start assisting customers immediately.
What is the cost of Facebook Chatbot?
While it is free to deploy and operate a Facebook Messenger chatbot. You can even create a functional, basic bot with minimal technical know-how. However, a full-fledged conversational-AI chatbot's cost depends on how you build the chatbot. You can contact a Service Provider from Facebook's directory to know your ideal Facebook chatbot cost to develop.
Can Facebook chatbots be used for lead generation?
Absolutely, you can present users with questionnaires and create a marketing funnel using a Facebook chatbot. This is ideal for lead generation and can help you achieve higher conversion rates. You can build a Facebook chatbot for lead generation from the ground up. Know: How you can integrate and add Verloop.io leads as contacts on HubSpot
Verloop.io – Your ultimate Facebook chatbot builder
A study suggests that 40% of millennials prefer to engage with bots daily. Other statistics indicate that the stores that have started using Facebook Messenger chatbot have seen an increase of around 7-25% in revenue by reducing the cart abandonment rate.
The immediate connection that the Facebook messenger chatbot offers to the customers has helped create loyal customers. With the easy implementation and opportunity to capitalise on the potential leads, the chatbots' growth is immense.
So just add the chatbot in Facebook messenger and deliver great experiences with enhanced productivity and improved customer service. You can even schedule a demo with us!