5 Mins
Customer retention strategies in the BFSI sector embrace technology to provide a strategic edge over competitors.
In the increasingly competitive world of banking and financial services, improved customer experience and engagement are crucial parts of the customer retention strategy.
What is Customer Retention and Why is it Important?
Customer retention is the company's ability to retain its customers. That is, patrons continue to buy the product or service, and not defect to another business in any way.
With many options to choose from, companies are contesting for customer's attention. Once acquired, strategies on how to retain customers become of the utmost importance to survive in this cut-throat world. 
We all know that acquiring new customers is expensive. Your banking service can adopt many customer acquisition strategies to reduce CAC, but acquisition is a tough game when there are too many players in a market.
On the other hand, customer retention is 5 times cheaper than customer acquisition. It also reduces CAC by upselling and cross-selling to existing customers.
Yes, companies need new customers to grow. But if you are looking at revenues and profits, nurturing existing customers will give you positive results.
However, most businesses feel if they have a great product or service, customers will stay.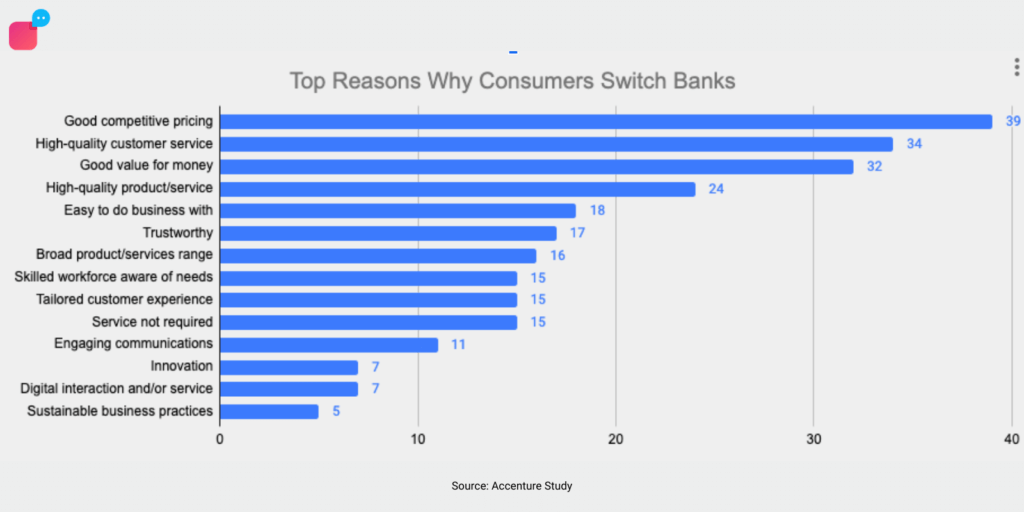 Unfortunately, this is true only in some instances. The harsh truth is that if customers don't get the attention and good customer service, they will leave.
Banking customers are generally not satisfied with their service. A study by FIS found that only 23% of customers are happy with their banking service.
To avoid churn, banking and financial services should thus focus on strategies to keep existing customers.
Furthermore, if customers stay longer with you, some of the benefits you will see are:
– Repeat customers spend more.
– Long term customers are open to upsell.
– Existing customers require less marketing.
– Loyal customers foster word of mouth marketing.
5 AI-driven Customer Retention Strategies that Your Banking Business should Use
Today, customers are more value-oriented as they have multiple alternatives. This increased competition, rise in technology and globalisation has subsequently changed the way people bank.
Working on customer expectations specifically can help your organisation retain valuable customers.
As a case in point, a Global Financial Services Consumer study conducted by Accenture found that:
around half of consumers expect financial providers to offer propositions addressing core needs
one in two consumers indicated an interest in personalised financial advice from banks
more than half of survey respondents expressed an appetite for a true omnichannel banking experience
Surely, all these expectations can be solved by technology.
Customer retention strategies based on technology, such as AI and customer support automation, can help banks become AI companies of the future.
---
Machine learning is being increasingly adopted throughout financial services for its ability to accurately predict customer needs, provide personalized product and service recommendations, anticipate complaints and power chatbots to provide a smoother feedback experience.
Bernard Marr – Forbes
---
How to Retain Customers using Technology?
1. Improve Customer Service
The second most common reason for switching banks (35%) is customer service quality. Naturally, customers want high quality, 24×7 service, faster support, and quicker resolution. Chatbots can solve this by responding immediately and screening customer complaints. In the same way, agents enabled with information can respond faster and accurately.
By harnessing customer data, banks can provide customer-centric experiences. Furthermore, with the advances in technology, AI can better understand customer intent, improve security, and allow transactions directly on the chat application (reducing the friction involved in online banking.)
Suggested Reading: Faster, Smarter, Better – AI is improving Customer Service
2. Move to Omnichannel
As phones get smarter, customers spend more time on them. Banks should facilitate services on different mediums (offline & online) and channels (website, apps, social media, WhatsApp). Without a doubt, customers will find it easy to do business with your bank. For instance, AI-powered customer support channels are enabling omnichannel experience.
Banking services are also plagued with dropouts at the onboarding stage. A significant aspect of the onboarding process can be automated. And to add to a seamless experience, customers can choose their preferred channel and time.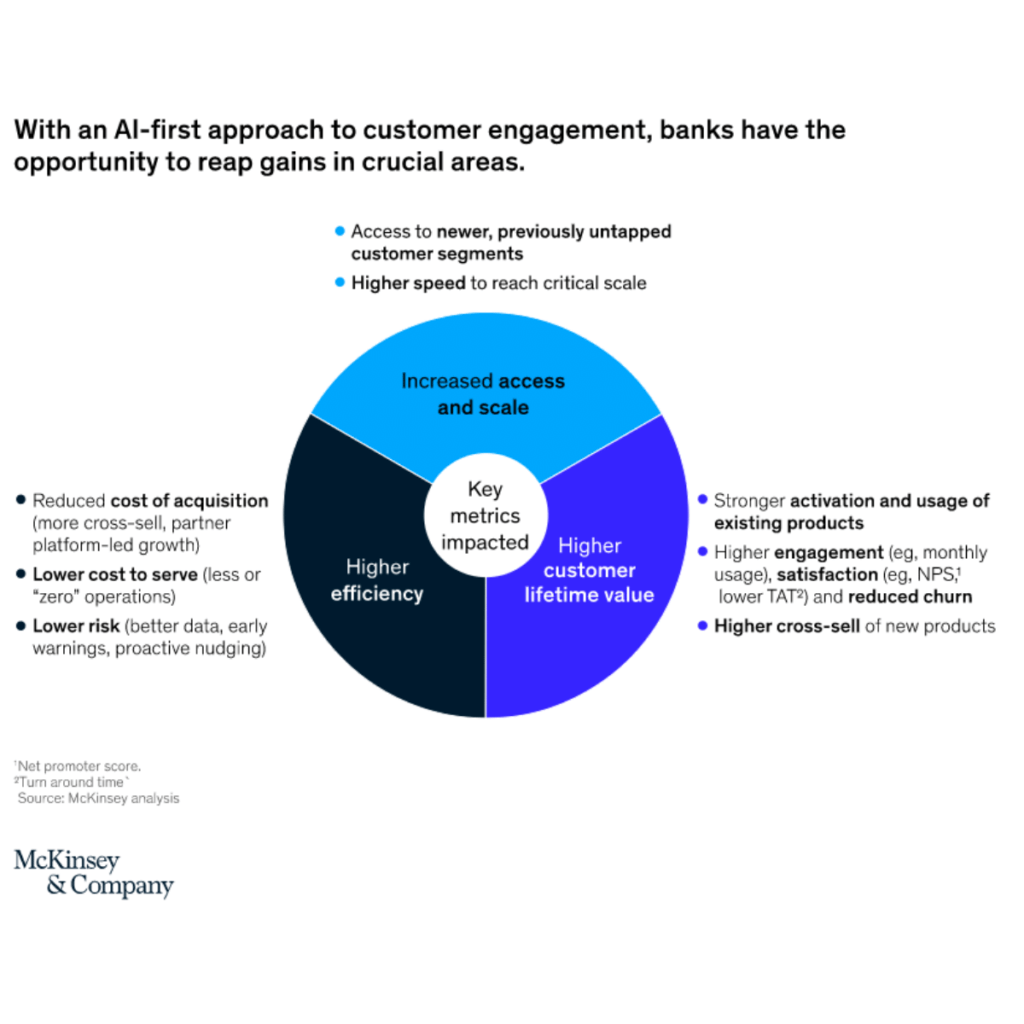 3. Ask for Feedback
CSAT and NPS scores tell you how your customers feel about you. One sure-fire way to find out is by getting their feedback. But customers don't want to fill lengthy forms. Using automation tools in customer service processes, you can do away with forms.
Above all, conversational banking support can be built to ask precise, personalised questions. Further, you can use autofill tools to make it easier for customers to fill forms. According to the data you get from feedback, you can fix problems for your customers.
4. Engage Better with Customers
11% of people said engagement was one of the reasons to switch a bank. To retain customers, your banking business should proactively communicate with customers, be where they are and talk to them when they are free.
Customer support automation also allows you to engage with your customers in different media formats (text, images, videos, pdfs, voice, maps, etc.), and multiple languages (multilingual bots).
5. Personalise Communication
Financial services cannot opt for one-size-fits-all methods of communication anymore. Gone are the days when you could send SMS to your customers and be done with it. Banks should, on the whole, tailor engagement to specific needs and diverse markets.
Banks must focus on understanding the market's needs, attitudes, and behavioural patterns. This data can consequently improve chatbot's algorithm to send smart messages, personalised tips and serve specific business needs.
Suggested Reading: How Chatbots In Banking Are Improving Customer Experience
Benefits of Customer Support Automation
Achieve Customer Retention by Improving Customer Service and Support
Reduced Costs
Juniper Research showed that banks could save $7.3 billion in costs globally through chatbot integration. For example, customer support automation helps automate repetitive tasks and decrease the human effort involved. On the whole, leading to reduced operational costs. 
Ease of use
Chatbots and other automated services are created with the idea of making customer's experiences simple. Their UI is intuitive and easy to navigate, adding to customer satisfaction and hence, retention. 
Improved Customer Satisfaction
Customers are happy with 24×7, personalised services. Automated customer services provide immediate help for simple queries and share relevant information with agents faster query resolution. Satisfied customers not only improve customer retention but also offer high lifetime value and reduce churn.
Increased Reach
Automated services can help you tap into new markets. On one hand, you can use 24×7, multilingual bots to be more accessible to consumers around the world. On the other hand, you can retain existing customers by adjusting your engagement based on demographic and geographic segmentation.
Customer Information
While interacting with automated services, your customer's share information like location, age, gender, language preference, etc. This data can further help you personalise messaging, detect warning signs and understand user intent.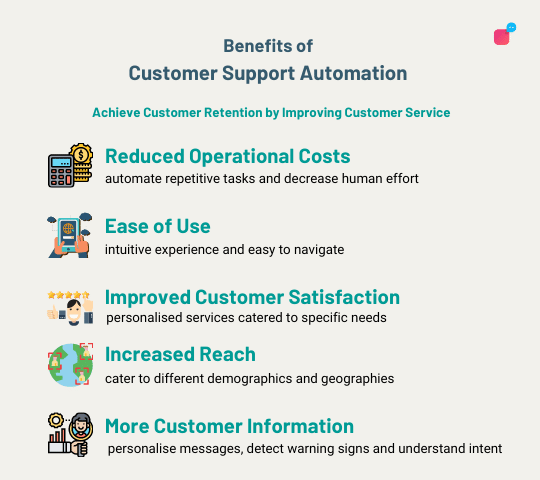 To sum up, banking services need to design strategies that cater to specific needs and personalisation. At the same time, it should provide value and be scalable. AI-driven technologies can help companies build customer relationships using customer retention strategies. Subsequently, it will help provide unique customer service, which will set you apart from your competitors and increase customer retention.
Reimagine customer retention by being the AI bank of the future.