5 Mins
As support becomes more customer focussed, the call centre is struggling to keep up. Automating and innovating call centres is the way to go for faster, stronger and better support.
Call centre is dead. At least as dead as it can be.
No one wants to hear 'If you would like help with X, please press 1. For help with Y, please press 2. To speak to our agent, press 3.'
It's an old system that was trending almost 20-40 years ago. Post-2010, this word is seldom heard.
Today, if you get a call from an unknown number, it's likely you won't pick it up thinking it's from a call centre. And if you have Truecaller installed, it will show this number under 'spam.'
In the late 2000s when the smartphone wave began, we saw a change in the way we communicate.
Phone calls reduced, texting increased and mobile/internet became easily accessible. Advances in technology in the 2010s also led to more personalized messaging.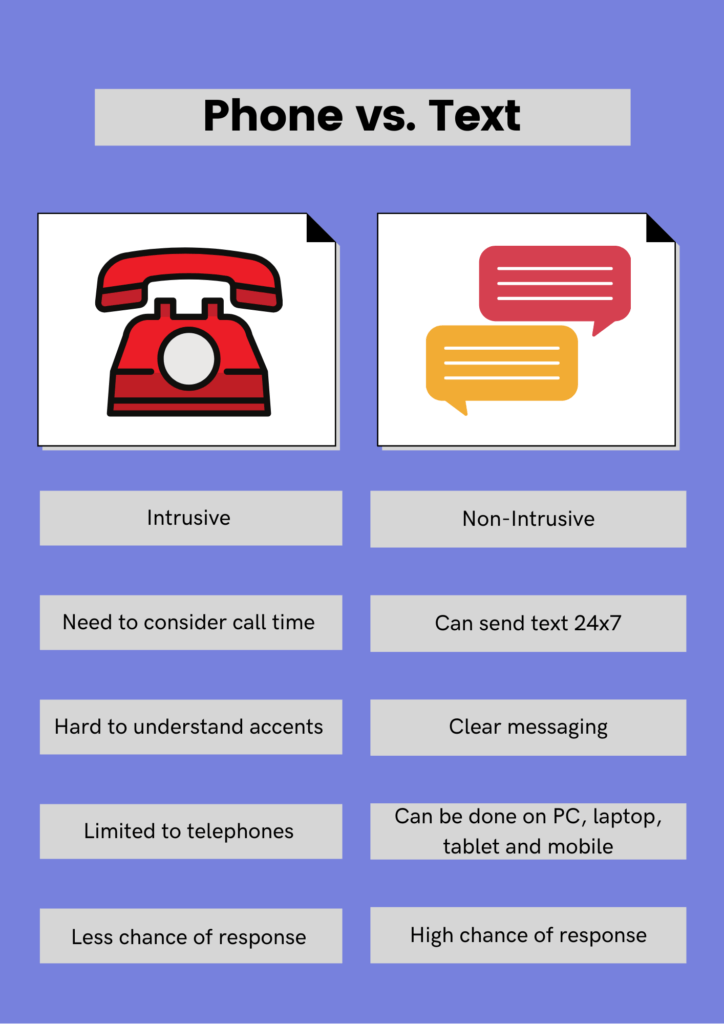 Recently, call centres have also been providing far from satisfactory service. The data below proves it.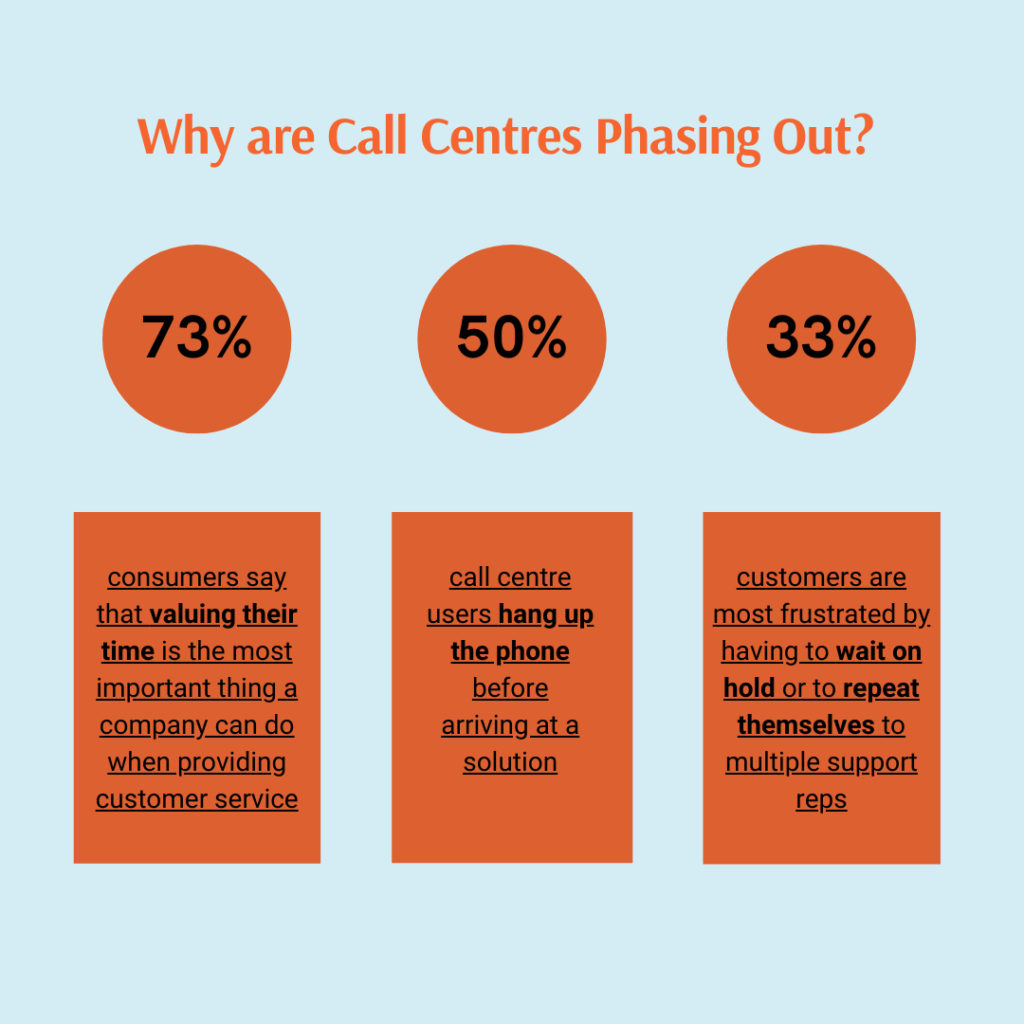 Customer preferences are also changing.
Gen Z and Millennials grew up in a digitally connected world, where being self-dependent was encouraged – a DIY culture.
Because of this, customer support has gone beyond phone service. Today, companies provide customer service through SMS, push notifications, IVR, social media, chatbots, and WhatsApp Business.
Now it's time to get all these together on one platform and make customer service faster, stronger and better. After all, the goal is to improve the customer experience.
That's where automation comes in.
What is Customer Support Automation?
It is a form of customer support that automates repeated tasks using technology like chatbots, voice-assistants, and other AI-powered tools. It streamlines routine processes, reduces human involvement, assists human agents and reduces operational costs.
Suggested Reading: Customer Support Automation and Its Importance
Call Centre vs. Customer Support Automation
In this post, we will discuss why the call centre is in the past and why your company should adopt customer support automation. Let's dive in.
Suggested Reading: Faster, Smarter, Better – AI is improving Customer Service
Communication Platform
The most significant difference between a call centre and automated customer service is the mode of communication.
A call centre offers support only through phones. Whereas through customer support automation, you can talk to your customers on live chat (on website and in-app), SMS, WhatsApp, Social Media (Facebook Messenger and Instagram) or any other platform of choice.
With customer support automation, your messages can contain text, images, videos, voice messages, attachments, etc.
You can customise messages based on your customer demographics and serve them better. For example, a Gen Z will respond better to a meme or a DIY onboarding process.
Suggested Reading: WhatsApp Chatbot: A Beginner's Guide
Omnichannel Experience
A company is dependent on the call centre agent to record the customer conversation and document it later to sync across platforms. It's not real-time and increases the chance of errors.
But if your company is automating customer support, conversations are automatically recorded, saved and synced with your CRM in real-time.
With customer support automation, not only can your customers reach out to you on multiple platforms, but their previous chat is also synchronized across platforms. This results in a delightful customer experience.
Suggested watching: Deliver Delightful Support Experiences
Operational Costs:
Call centres are expensive. Period.
On average, outsourcing call centre services to India would cost around $6-$10 per hour. And the rates only keep increasing as you move to other regions. For example, outsourcing call centre to South East Asia is $8-$14 per hour and the Middle East is $15-$20 per hour.  
On the other hand, you can automate 80% of your customer support queries, requiring agents to solve only the remaining 20%. This improves the agent's productivity, reduces agent training costs, overhead costs, and increases customer satisfaction. All at a fraction of the costs.
Suggested Reading: Save Money by Switching to Customer Support Automation
Marketing
Because of its limited communication mode, a call centre cannot offer many opportunities to market your company. There is no visual element either.
But when it comes to customer support automation, you can market your company in more than one way.
You can customise your messaging to meet brand guidelines, helping in a strong brand recall. Additionally, you can send emails, WhatsApp message, or SMS to market new products/features.
The advantages of such messaging are that you can personalise them, are non-intrusive and have a high open-rate.
Suggested Reading: Why Your Landing Page Needs A Chatbot Today
Support
Call centres are reactive support systems. Customers call the service centres only when they have a problem with the product and want to complain. It's one-way communication.
Whereas, customer support automation is two-way communication. Customers can reach out to companies when they need help, and companies can reach out to customers to proactively provide support and for sales and marketing purposes.
Why wait for the customer to reach out when you can help them onboard, share relevant material, share rewards, build loyalty, and re-engage. This builds good customer relationships.
Suggested Reading: Your Guide To Building Customer Relationships That Last
Self-service
As we had discussed earlier, the new generation is self-reliant and wants to solve their problems on their own. A call centre doesn't fit this need. The customer is dependent on agents to help them resolve their issues.
With the help of a chatbot or an automated onboarding process, the customer is free to use the product at their convenience and resolve issues as soon as the problem arises.
In fact, the AI behind this tech keeps improving based on customer interaction. A smarter automation process gives more power to customers and results in a better experience.
Suggested Reading: AbhiBus Case Study: A Smart Way to Support: Self Serve
Customer View
While call centre staff is supported with customer information, they have to toggle between multiple platforms to find relevant customer information. The agents waste too much time and take longer to close a ticket.
However, in a customer support automation tool (one like Verloop.io), the agent gets to see a unified view of the customer, with all relevant information in one place on the same screen as the chat.
Information like customer chat/purchase history, customer's location, the platform of communication, etc. is also shown. With customer profiling, the agent can provide a customised message for the customer.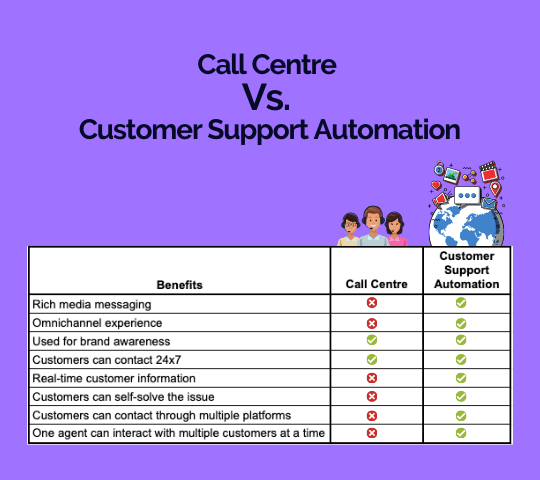 The Future of Customer Communication
In a nutshell, customer support automation is the present and future of customer interaction for support purposes.
Call centres will continue to exists but to a limited extent. Customer preferences have changed and everything is going mobile/digital.
Companies need to adapt to this to be able to reach/serve their customers.
Looking to Upgrade Your Customer Support?