8 Mins
Want to create a chatbot on Facebook page but don't know where to start? Verloop.io uses the Facebook Messenger API to help you build a chatbot for Messenger in a couple of minutes!
Facebook Messenger is one of the most popular messaging platforms in the world. With 1 billion monthly active users (MAUs), it's a great platform for businesses to connect with their customers.
In addition, Facebook Messenger chatbots help automate sales. With 83% of consumers saying they would shop for or buy products in messaging conversations, now is the time to increase the usage of chatbots in your business to drive more growth.
However, connecting with your customers through Facebook Messenger can be a lot of work.
You need to create and manage separate Messenger accounts for each of your businesses, and then manually send messages to your customers. Thankfully, there is a better way. With Verloop.io, you can connect your "Facebook Messenger account using API"
This will allow you to automatically send messages to your customers through Verloop.io's conversational AI Platform. In this article, we will discuss:
Facebook Messenger: Where customers interact with businesses
With Facebook Messenger, companies large and small can leverage a simple way to offer quick, personal, convenient, and secure customer support. Businesses can use Facebook Messenger to improve engagement because the platform is where people are, which means that you're always where your users are.
Companies can connect Facebook Messenger with customer engagement platforms, as well as integrate with apps and sales software to maintain complete control over their conversational data.
Businesses face challenges when it comes to using Facebook Messenger from increasing customer engagement to providing a seamless customer experience. Let's dive into the challenges first and see how you can address that challenge.
The Facebook Messenger challenges faced by the businesses:
There are over 988 million users and 40 million businesses trying to reach these users across their preferred social channels. It has become imperative to reach out to customers where they are spending most of their time.
And for that, it's important not only for B2C businesses but also for B2B businesses (including startups) to cater to customers on social platforms including Facebook and Instagram
However, despite outreach efforts from brands, half of these businesses are not able to acquire, engage or retain customers. This is a huge gap that needs addressing!
But thankfully YOU can utilise this opportunity to cater to your audiences trying to communicate with your brand on their favourite channel: Facebook Messenger and how you can do that.
Now, let's try to understand why you need to choose AI-powered chatbots for your Messenger and what are the ultimate benefits you walk away with
Why use chatbot on Facebook Messenger for Business?
As you can see above, your users are interacting with you on Facebook Messenger. From stats, it's clear that it's an important channel for customer communication for your brand. But that is not the only advantage you get. We list four more reasons why you should create a chatbot on your Facebook page.
1. Chatbots are more engaging than an email
Customers can easily interact with chatbots so that businesses can communicate with them 24×7. With AI-powered chatbots, the accurate response is given based on how well the AI understood the user's intent. This allows for seamless two-way conversations, just like how humans talk to each other. 
There are several reasons why customers enjoy communication with chatbots. It can be because it is faster than email communication, it's available all the time, and empowers them to resolve their problems on their own
It can be simple as a chatbot offering order updates. Whatever the case, chatbots can make communicating with businesses much easier and less time-consuming, which is a win-win for all parties.
2. Conversational Chatbots are personal to the user
Chatbots are so user-friendly that they make it easy for people to talk to businesses without any hassle. By being contextual, thanks to omnichannel integrations, the users find a sense of familiarity with the chatbot and develop trust in it.
This trust is the reason why chatbots are so effective in driving conversions. The best way to market to your customers is by personalising your message and using it to connect with your customers.
3. Chatbots are convenient
Chatbots are handy tools that are used by many businesses of all sizes. They are used to provide solutions to a wide range of problems and questions, even for questions that can be easily answered by your help page.
Other than being great FAQ chatbots, they are a great tool to share updates, showcase products and services and collect customer feedback – all in the same window.
As such, chatbots have proven themselves to be more convenient and time-saving than email. It allows your users and customers to have more time to do other tasks.
4. Chatbots allow for building deeper relationships
Chatbots allow your business to build deeper relationships with your customers by creating a more human-like interaction and increasing your customer's trust in your brand.
AI-powered chatbots give your customers the impression that you care for them by engaging in personalised one-on-one conversations, which increases your brand's perception over time. They become your loyal customers and have a long association with your brand.
Why Facebook messenger API?
-Facebook Messenger API is currently the most successful messaging API.
-There are around 1 billion active users on Facebook Messenger.
-It is fast and responsive.
-It is easy to integrate.
It's no secret that the Facebook app ecosystem is extremely competitive. With over two billion active users, there are a lot of businesses competing for attention on the platform. So, why haven't more businesses been able to take advantage of this established ecosystem?
There are a few reasons. The first is a lack of tech prowess. Many businesses simply don't have the in-house expertise to develop a Facebook app that meets all the requirements.
Second, figuring out what app permissions have to be used can be a challenge. To get an app approved by Facebook, you need to make sure that all the right permissions are in place.
Lastly, getting the app approved can be a lengthy and complicated process. You need to have a deep understanding of Facebook's standards to get your app approved in one go.
So, while the Meta Business Suite presents a great opportunity for businesses, it's not an easy one to take advantage of. Those who can overcome the challenges, however, can reap some big rewards.
How is Verloop.io solving this important issue?
By providing an out-of-the-box solution, our service allows businesses – of all sizes – to prioritise their efforts toward something more meaningful than overseeing the development and integration of chat automation and customer support processes.
We've taken care of the app development process for you so that your team members can remain focused on other important issues related to your business or organisation.
Chat and customer service automation is complicated and takes a lot of time to set up. With Verloop.io, small, medium, or large businesses don't have to wait two weeks or months for their tech team to enable these features on popular support channels like Facebook or Instagram.
In fact, we've already created an ecosystem for our customers to integrate their Facebook and Instagram pages with the tool in 30 seconds or less! We've taken care of the whole permission and app approval process so you wouldn't have to.
Verloop.io also takes care of integrating with your mobile app, setting up the bot, and setting up bot analytics, so that you can focus on your business-customer relationship instead of on building the Facebook Messenger bot.
How does Verloop.io handle the Facebook Messenger API integration?
Our conversational AI platform allows you to easily create Facebook Messenger chatbots for any type of application without learning a programming language.
Here is the simple step-by-step process on how to integrate your Facebook Messenger API to Verloop.io.
Step-by-step process to integrate FB to Verloop.io:
Step 1
In the Settings option of the Verloop.io Dashboard, click on the chat under the Product settings and select the Integrations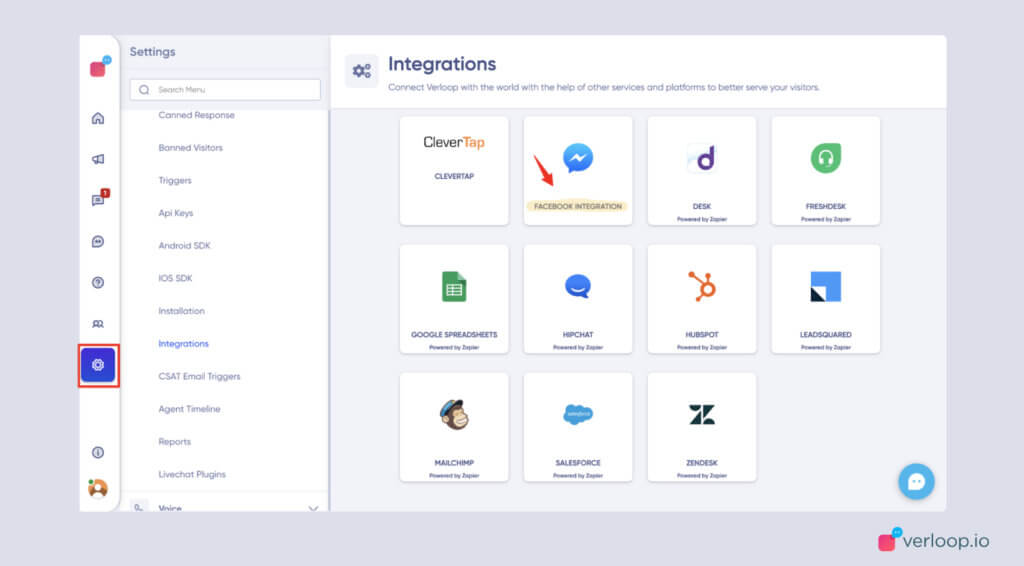 Step 2
On the Integrations page, click on Facebook Integration

Step 3
Before proceeding to Step 4, please ensure that you are already logged into the FB Business account of your company.
Step 4
Click on connect with Facebook

Step 5
You will be redirected to Facebook. Please ensure that you allow all the permissions.
Step 6
Once the account has been connected with the Verloop.io Dashboard, please select the Facebook page to enable the bot of your choice.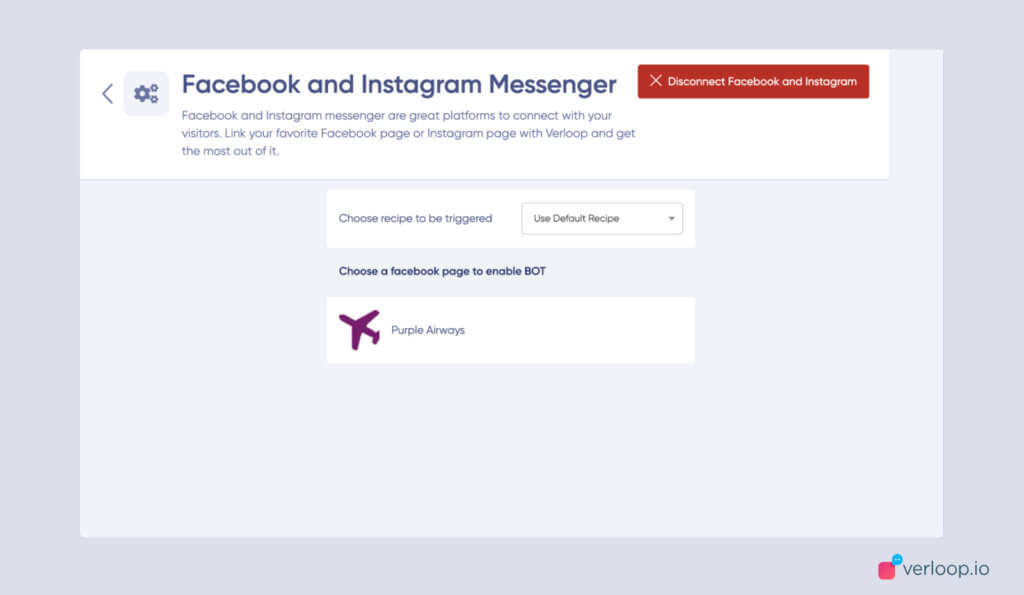 Step 7
Then choose the recipe you want to use for the page.
Ta-da! It's done. In just 30 seconds, you were able to integrate Facebook Messenger API with Verloop.io's conversational platform. You are now ready to delight your customers with meaningful conversations on Facebook Messenger.
Wrapping up
We hope this post was helpful in understanding a little more about Facebook Messenger chatbots and what they can do for you. If you are interested in conversational chatbots, we can help! Verloop.io is the world's leading conversational AI platform that integrates with the Facebook Messenger API to help you build your FB chatbot in less than a minute.
When you sign up, you can choose from different pre-defined bot templates and customise them to your liking. Verloop.io also integrates with 100+ tools to make sure that you get the most out of your chatbot and make it as successful as possible! 
Schedule a demo with our Conversational AI experts today