5 Mins
Welcome back! Hope you read our first part on "Signs you need to better your customer experience" and that you have your scores from the previous post with you!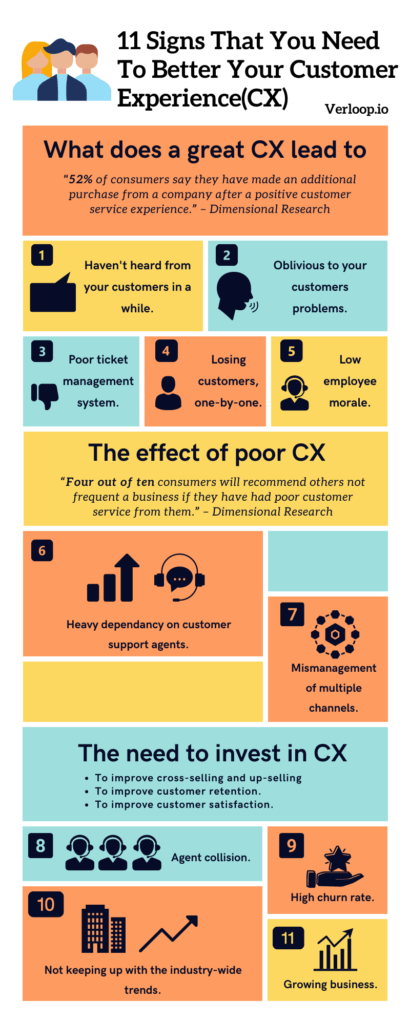 Pencils ready? Then let's continue, shall we?
6. Too many cooks spoil the broth
When your business grows, you'll need a team of people to help your customers. The problem is that this might lead to agent collision. Where more than one person ends up tending to the same customer.

Eg: N, your customer reaches out to your team via email, for some help. Instead of writing an email, X, an agent, arranged a meeting and resolved the issue then and there. But, Y – another agent is unaware of the call and ends up emailing the customer in a bid to resolve the issue. Which leads to confusion and chaos.

Thus, the team must adopt a software like a helpdesk, chatbot, etc, which will help everyone to stay on the same page and keep them in the loop.
7. Multiple channels collision weakens the customer experience
Gone are the days where customers just stick to emails and phone calls. Most of them nowadays are turning towards other platforms like social media to narrate their grievances. And with many customers opting for different ways to grab the company's attention, it might get a bit taxing to respond to them.

Eg: Q, a customer, wrote an email to a company about a defective set of earphones. As there was no response, Q decided to share a negative response on Twitter and Facebook. Now if the company fails to offer any help on Twitter as well as Facebook, the company ends up losing trust amongst its current customers.

So, it's important to improve your primary mode of communication – Email, Phone, SMS – with your customers. If you can't improve, then it's time to find an alternative to it, where you can reply to your customer's queries as quickly as possible. Thus, not giving them a chance to fall back on a platform that you're not that active on.
But, it's always important to offer consistent, helpful service whichever way your customers choose to contact you.
8. Your business is growing, so should the customer experience
Businesses today need to be able to help customers from anywhere. An email is a good tool for dealing with inquiries, but it can't give you access to customer data or case history.

Eg: T, a customer, gets back to you for a follow-up on his query, as one of your team members who was T's point of contact has been out of the office for a week. But, if you don't have any of his data or past queries handy that can make T feel neglected and disappointed.
You need to invest in a tool that'll be there for your customers 24*7 since you can't and store all necessary client data. Moreover, help you provide a better customer experience.
9. The out-of-control high churn rate
Customer retention is directly dependent on the customer experience. A customer might plan to change their current provider if they come across any loose ends while using the product/service.

Eg: Company A and B are providing the same service – home services such as carpentry work, deep cleaning, etc. Customers of company A have been trying to reach out to the company regarding the deteriorated services and high prices. The company doesn't respond in time, leading to most of the customers, even the loyal ones, moving to Company B.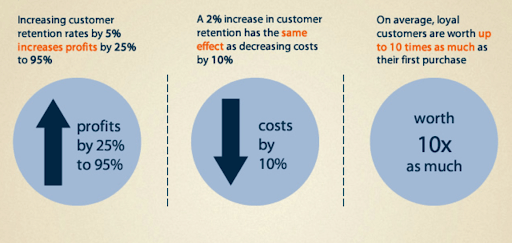 Thus, it's always important to listen to your customers. Failure to respond or help them will lead to a higher churn rate. Plus, will affect your market status and revenue generation.
10. Heavy dependency leads to dissatisfaction
Customer support agents are meant to help the customers in every step of the process. But, leaning towards the customer agents for every help or push reduces the productivity level of the agents and makes the customer frustrated as they have no room to get the answer on their own. They're left with no choice but to wait for the agent.

Eg: Z, a customer, reaches out to an agent from the company X to get a hold of any blog/document that they might have on how their company handles fraud detection. As the agent might be preoccupied with other tasks, she might not prioritize this task, thus, resulting in a displeased customer.

Customers are usually highly dependent on tasks that can eat up a lot of the agent's time. It becomes important for the company to invest in a self-service platform, like a chatbot where the customer can get the answers to their queries within minutes, instead of depending on the agent to get back. Thus, making the agent and the customer happy.
Also, with so many people using smartphones to manage their businesses and personal lives, it's imperative to offer a mobile service experience so your customers can solve their problems on the go.
11. Not keeping up with the industry-wide trends
Sometimes it's not just about delivering a poor experience, but also the inability to keep up with the entire industry and your customers' needs.

What might have worked in the past may no longer be effective with your customer base, and you may need to shift your strategies based on the broader trends. Not staying up-to-date/implementing a feature in time can result in: Customers leaving you for another company that's up the innovation ladder.

Eg: Company A sells a phone with a 12-megapixel camera, touch ID, etc. amongst its other features. But Company B sells a phone with 16 megapixels, touch ID, face detection, and water-resistance as its new features. By seeing the great features introduced by B and how they're innovative and different, customers start pivoting to Company B.
Hence, companies must always be on the lookout for what their competitors are doing. Or stay aligned with the "next big thing." It's important to figure out what can be implemented and if anything better can be launched.

Staying in line with the competition and with the industry standards increases the customer experience score for your company.
So, what was your "customer experience" score?
If you scored between 1 to 4, then great job, but you should tend to these signs as soon as you can, as they'll lead to something bigger if neglected.

If you scored 5 and above then you must immediately start working on providing a great customer experience for your customers. And quickly work on each of these signs bit-by-bit.
Delaying it further would lead to dissatisfied customers>lower retention rate>decreased loyalty>lower revenue generation.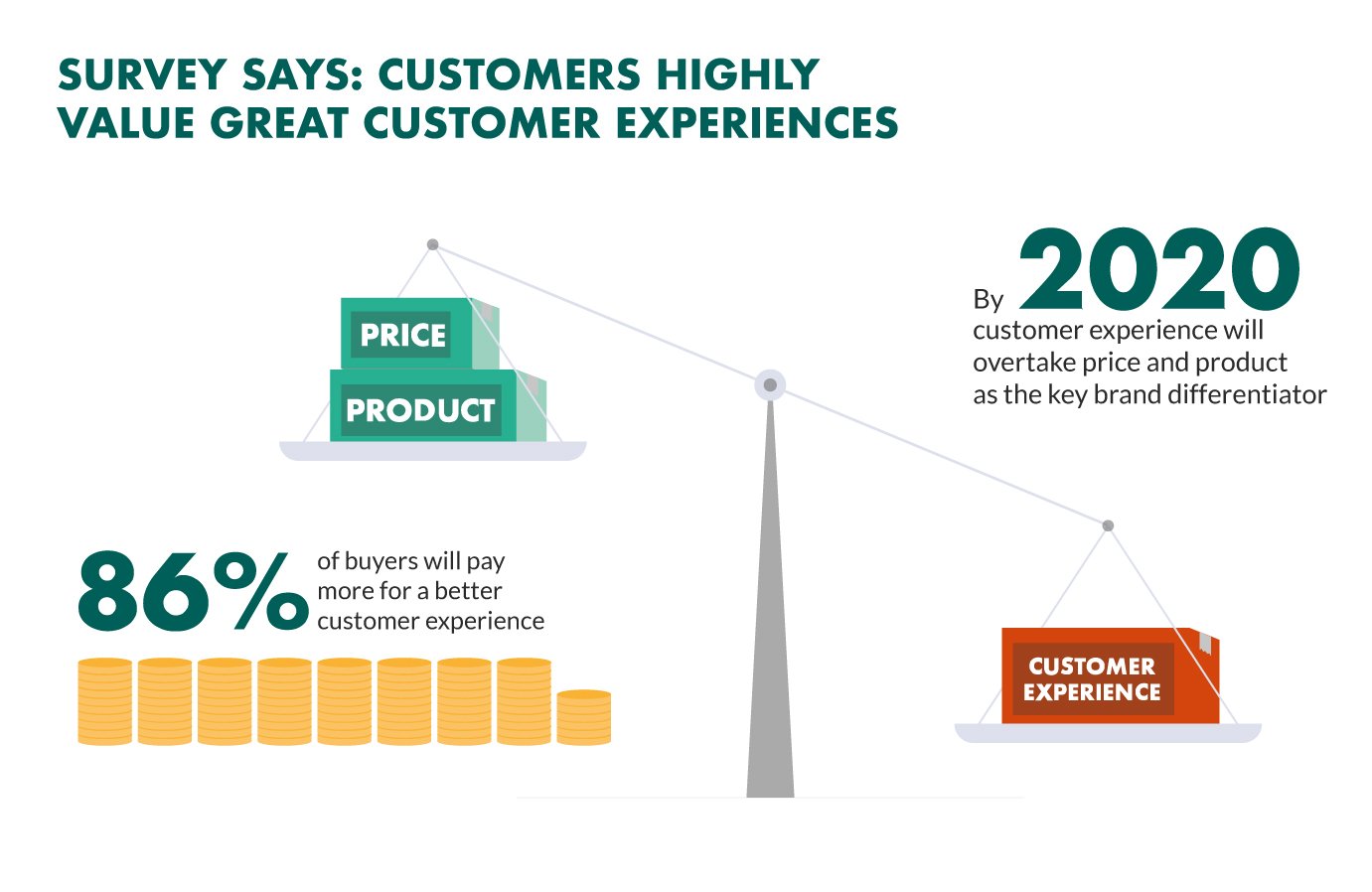 One such proven method of providing first-class customer experience has been the inclusion of customer support automation (CSA). CSA helps in taking away the repetitive tasks, increasing agent productivity, and improving customer satisfaction.
Suggested Reading: 20 Tips to help you provide better customer experience