5 Mins
The customer care industry has the highest employee turnover rate at around 30-50%. We look at how conversational AI assists agents to improve efficiency.
Customer service and satisfaction have risen to the top priorities of businesses in today's highly competitive environment.
Customers love to share their experiences. However, a negative experience can substantially cost a business. Because of this, businesses are consistently in need of practices that can help improve customer satisfaction and loyalty.
Conversational AI has been present for over a decade. The opportunity to implement the AI agent assist service to improve the service quality and lessen the customer support burden is ripe.
In this post, we cover:
Forbes, in a report, pointed out that a business can expect to increase sales by 67% by using chatbots. But how does it help agents?
So, let us see how one can use the AI agent assist in making an agent's life easier.
As businesses grow, the demand for better customer services also increases, which calls for a positive and interactive customer experience. At the same time, good agent experience is equally important to ensure employee satisfaction.
The main things that define agent satisfaction include:
The ease and simplicity in resolving customer issues.
The quality of customer interactions experienced.
The value they gain at the end of the day.
The opportunities to polish their skills for growth.
The opportunities to reduce the burden from repetitive tasks.
Having a satisfied agent team and offering them a great experience is important for improved and efficient customer service. Since the factors involved in attaining a good agent experience are addressed, let us look at how using the conversational AI agent assist can make customer support easier.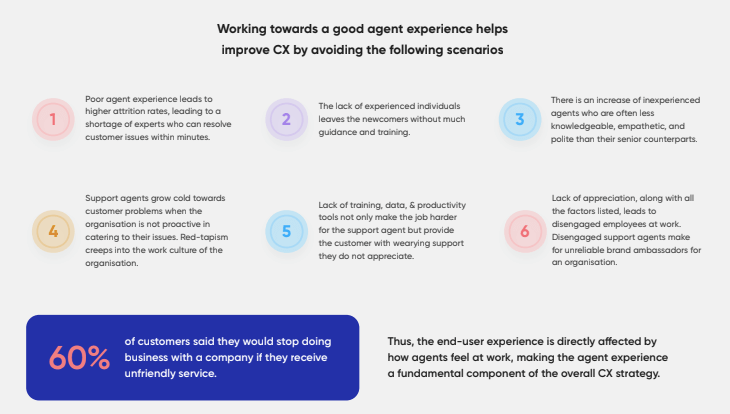 5 tips to use conversational AI Agent Assist for better performance
The customer care industry has the highest employee turnover rate at around 30-50%. With its apparent capabilities, conversational AI can evolve into an agent's best friend by addressing issues that everyone has overlooked.
Agents who use their strengths during customer interactions are 6 times more likely to be engaged at work and 8% more productive.
Let us have a quick peek at the top 5 tips to adopt conversational AI for better agent life:
1. Automate the repetitive processes
The first and best way to use conversational AI to improve the agents work-life is to automate the repetitive process. Using the AI agent assist, one can drastically reduce the number of tickets assigned to an agent. It will leave room for agents to acquire new knowledge and skills for growth prospects.
Automating FAQs with conversational AI also solves one of the customers' expectations of self-service. 69% of the customers try to resolve issues on their own before asking for help. So with conversational AI, businesses can kill two birds from one stone.
2. Access to analytics and data for better result
Using conversational AI to assist agents, businesses can take control of better data analysis. Facilitating the opportunity for better decision-making and support, AI provides a unified customer view to agents. This improves the agent's efficiency and customer's experience to a great extent.
Also, the trend analysis by AI can help offer better context to a problem and improve the solution. Conversational AI offers suggestions and details of the previous queries to agents to efficiently solve customer queries.
Agent dashboards show customer satisfaction scores (CSAT) with the agents, track the status of their conversations and even measure their overall KPIs at a glance without overpopulating data that's unnecessary to them. This helps in agents training and growth at the organisation.
3. Personalise conversations for growth
Conversational AI makes personalised suggestions based on data from previous consumer interactions. The right integrations allow agents to pull information from your other applications such as CRM, Google maps, and marketing tools. etc., without having to switch tabs.
It also assists customer support in developing meaningful ties with their consumers on a broader scale. Agent assist features like note-taking can help make notes while talking to a customer and pass on these important points to the next agent, retaining context.
By offering personalised and customised suggestions with the AI agent assist, one can improve sales and attain growth.
4. Reduce waiting time, better feedback
One of the biggest hurdles that the customer support or agents faced while seeking growth is the output or performance. The increased waiting time can annoy customers leading to negative feedback that hampers growth opportunities.
Using the AI agent assist, one can reduce the wait time significantly. Other features like canned or quick responses can help agents select one of the pre-saved messages and respond to the customer in a jiffy.
Allowing the conversational AI to handle common, generalised tasks while the agent handles special, critical queries is a win-win situation for the business, customer and agent.
5. 24*7 customer support with augmenting agent capabilities
A chatbot is open for access to the customer 24*7. At the same time, conversational AI can augment the agent with the help of insights, knowledge bases, alerts and notifications.
If the agent cannot respond to the query or look for the appropriate solution from the script, the AI agent assist can help with the response. It will save the customer's time and will eliminate the chances of a negative experience.
Conversational AI agent assist: a friend not a foe
As reported by IBM, chatbots can help businesses save up to 30% on customer support expenses by shortening response times, freeing up agents for more difficult tasks, and answering 80% of basic queries.
Indeed, the AI agent assist is here to help reduce the burden from the shoulders of the customer service agents and not replace them. It offers them an opportunity to acquire new skills important for growth. Al agent assist is a true friend, designed to make agents' lives easier.
Having an effective conversational AI for business is important to grow. Verloop.io is one of the finest providers known for the most advanced and successful conversational AI. It also focuses on empowering agents with AI agent assist and help improve service quality and agent satisfaction.