Industry
Customer Support
To understand the state of Customer Support in 2021, we collated data from over 80 million customer support interactions in the last 12 months across 200+ companies spread over 3 regions.
Download our report to find out how 5 companies performed on the pillars of customer support: CSAT, FRT, AHT, Bot Deflection.
The state of customer support
Customer support continues to play a major role in delivering delightful customer experiences (CX). For a function that's constantly under pressure to perform well and ensure customer retention, it's looking at new technologies to focus on improving CX and driving businesses' success.
As the world moves to digital experiences, companies expect customer support to engage customers and drive meaningful interactions. One such way is through conversational AI.
Chat conversations are on a rise. In 2021, we saw a 700% increase in incoming chats across industries such as e-commerce, BFSI, Healthcare, Real Estate and Travel and Hospitality compared to the number of incoming chats in 2020.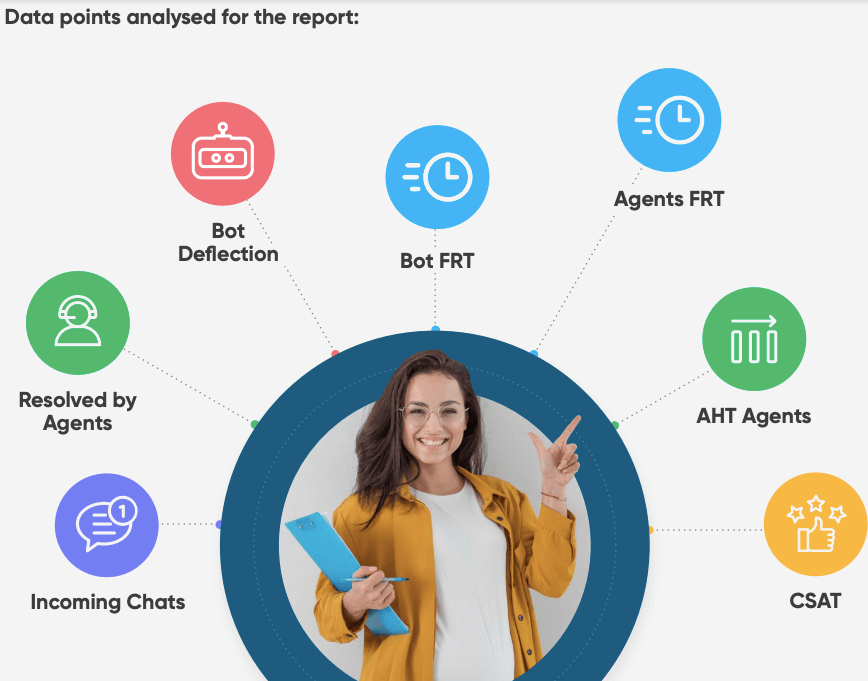 In this report, you will learn about:
How conversational AI help meet the customer demands
Customer support benchmark for 2021
Impact of Conversational Chatbots 2021 vs 2020
Future of customer support and conversational AI
Are you ready for customer support in 2022?
Verloop.io's annual benchmark report 2021 for customer support shows how companies have performed in their customer support efforts. But the real question is are you ready for 2022?
Are you serving your customers on their preferred channel?
Are you able to scale your support to respond to ALL customers?
Are your responses to customers quick and accurate?
Are you ready to adopt the latest technology to WOW your customers?
Get ahead of the curve with Verloop.io's Chat and Voice AI conversational platform.